In November, Lynn Preston, professor of biology, was elected head of the Texas Honors Committee at the National Collegiate Honors Council conference. The Texas Honors Committee includes all honors programs for every college and university in Texas.
In December, the Fire Service Training Center received a donation of $40,000 worth of tools from Homaltro, a company that designs and manufactures hydraulic rescue equipment. The donation includes not just the tools themselves, but replacement parts for the life of the equipment.
On Jan. 9, the Aesthetics and Stewardship NWISE Team recognized the hard work of TCC Northwest's campus grounds crew by providing lunch and appreciation certificates for their efforts in maintaining the campus as it undergoes numerous construction projects. Thirteen members from the team were present for lunch and to receive their certificates of appreciation.
On Jan. 11, TCC Northwest hosted the University Interscholastic League Academic Meet. More than 500 high school students and 70 coaches from the DFW area attended the meet as the snow slowly fell and then melted away. In a single day, more than 900 tests were administered, graded and then distributed back to schools. The students who scored well were celebrated with medals and plaques. The event would not have been possible without participation of more than 30 faculty and staff volunteers from TCC NW.
On Jan. 13 and 14, Student Activities sponsored NW Navigators, a group of students, staff and faculty who are available on the first days of class to help new students navigate their way. Student Activities set up six tables around campus stocked with snacks, drink and maps. Helpful and friendly volunteers guided students around TCC Northwest as they passed between classes. NW Navigators' goal is to give students a positive experience on their first days of class.
On Jan. 14, John Hartley's exhibit, "Played in America," opened at the Martin Museum of Art at Baylor University in Waco. Professor Hartley's exhibit also received a write-up in the Waco Tribune as part of the opening. Read Waco Tribune review
On Jan. 14, David Cole was a presenter and panel discussion participant at the Farm Fresh Summit, an event organized by the Education Service Center Region 11 in partnership with the Texas Department of Agriculture. The summit's audience was made up of professionals who work in areas related to nutrition, childcare and education. The event was designed to explore issues such as including fresh foods in children's diets, how organizations can purchase food directly from farmers and how organizations can support local farms. Speaking about his participation in this event, Cole said, "It was an honor to represent Tarrant County College and be invited to serve the hard-working women and men that are tasked with providing our schoolchildren with increased fresh food options. The hope is to make a lasting impact on the future of our youth's food and health decisions. Even though I work at the college level at TCC, I feel as if we share a common goal and passion to make fresh, healthy food more abundant and accessible to all."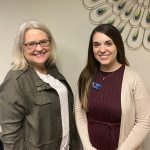 In January, at the start of the spring term, Tracy Williams, coordinator of career services, signed on to be practicum supervisor to Sarah Casarez, a current graduate student at Sam Houston State University.  Sarah is pursuing her master's degree in Higher Education Administration and has been working professionally in higher education since 2013, primarily in undergraduate admissions. Sarah's growing interest in Career Services led her to Tarrant County College to complete her practicum. At the conclusion of her practicum, Sarah will graduate after completing 75 hours of observation.
On Feb. 1, the Employee Professional, Career and Leadership Development NWISE Team hosted Active Teaching for Active Learning, a half day of professional development for adjunct faculty at TCC. The program began with a welcome from President Zarina Blankenbaker, which was followed by a panel discussion on how to make the transition from part-time faculty to full-time faculty. Judith Gallagher, vice president of Academic Affairs, Ava Jenkins, instructor of Speech, and Mark Rhoades, instructor of Biology spoke to their experiences in making that transition. Integrative Learning Fellows Michelle York, instructor of English, and Ryan Ferguson, coordinator of Academic Support Services and adjunct instructor, facilitated a session on active learning. Tina Ross, associate professor of Speech and guided Pathways Lead, facilitated a session on lesson planning. Demesia Razo, director of Workforce Programs, wrapped up the day with reflection questions during lunch. The interactive event was attended by more than 50 adjunct faculty representing every campus at TCC. The event was also attended by several embedded faculty at area high schools.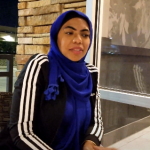 Fatimah Jawad, an adjunct Instructor in TCC Northwest's Visual & Performing Arts department, has been featured on PBS' American Portrait website. American Portrait is a storytelling project that seeks out voices from around the country, exploring the idea of what it means to be an American today. The effort is a partnership with PBS Digital Studios, which is putting together a companion documentary miniseries inspired by the stories featured on American Portrait.
On Feb. 8, ESL/ESOL instructors and Academic Learning Center tutors represented the Northwest Campus at the TexTESOL V Regional Conference held at the University of Texas-Arlington. TESOL stands for Teaching English Speakers of Other Languages, and President Blankenbaker is a past president of this regional chapter. Participants were Waldine Fryer, Nancy Gutierrez, Anita Biber, Lourdes Davenport, Carly Rastandeh, Wendi Crandell and Juliana Owuori.
On Feb. 18, the Transfer Center hosted 28 universities and 128 students at the Spring University Transfer Fair. This event allows students the opportunity to compare local, private, public and out-of-state universities.
On Feb. 19, the Business and Entrepreneurship department hosted the Entrepreneurs Roundtable. The event was an opportunity to bring Tarrant County entrepreneurs and students together and help students gain some insight into what it takes to be a successful entrepreneur. The event was organized by Lourdes Ramboa, department chair for Business and Entrepreneurship.
On Feb. 20, the TCC Northwest Community Education and Engagement office hosted 14 students from six high schools at the CTE Letter of Intent Signing Day in partnership with the National Coalition of Certification Centers (NC3). NC3 is an initiative that honors high school students entering a technical field and emphasizes Tarrant County College's commitment to help them gain the skills necessary to compete in high-demand occupations. The event mirrors the NCAA's National Signing Day for students who commit to play sports in college. At the event students also had the opportunity to meet with CTE faculty members and industry partners.
On Feb. 29, more than 200 people attended the Marine Creek Creative Writing Conference at TCC Northwest. The conference, now in its 10th year, featured 18 speakers who held workshops on a variety of topics including poetry, fiction, songwriting, podcasting, publishing, blogging and the creative process. The keynote speaker was Rebecca Balcarcel, award-winning author and associate professor of English at TCC Northeast. Attendees included students from multiple TCC campuses including Marine Creek Collegiate High School as well as local high school students from Birdville and Azle ISDs and community members from various DFW writers' groups. This community event continues to be a positive space for writers and students to connect, share ideas and be inspired.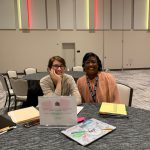 On March 3, Cindy Allen and Ruth (Nicole) Hall presented "How We Pair Developmental Reading/Writing with a Myriad of College-Level Courses" at The League for Innovation conference in Seattle.
On the evenings of March 2 and 3, both the TCC Northwest Chamber Singers and the TCC Northwest Orchestra performed a Student Showcase Concert, featuring Mozart's Requiem and music from many other renowned composers such as Gustav Mahler, Anton Bruckner, George Bizet and Edvard Grieg, among others. The performance was well received and praised by the audience, and it showcased the passion and hard work of TCC Northwest Music students and faculty. A Collegian article about this event has been published online.
On March 4, in observance of Women's History Month, Health Services and Student Activities collaborated to sponsor the luncheon titled, "How to Live Your Best Life: Tips Towards Total Wellness," presented by Brighton Miller, DO and the Scott & White Speakers Bureau.  In attendance were 59 students, staff and faculty. General information such as screenings, exercise, nutrition, stress management and a Q&A session were given.