Summer 2019 saw the largest ACE camp since the program began in 2014. Thirty-two campers spent the week at the Center of Excellence for Aviation Transportation and Logistics. The camp provides high school students beginning their junior and senior years an opportunity to explore aviation and aerospace careers. ACE camp is a venture sponsored by the Federal Aviation Administration, the U.S. Aviation Academy and the University of North Texas, and it is hosted by the Northwest Campus.
The camp helps students make informed decisions about aviation and aerospace careers and educational pathways to those careers. Throughout the week, students learn about how aircraft fly, as well as the basics of aircraft mechanics including how a jet engine works. They also tour several local aviation and aerospace industry partners. However, the highlight of the camp is students taking an introductory flight in a small Robertson aircraft.
This year local media was on site to highlight the camp:
https://dentonrc.com/news/campers-take-to-the-skies-as-they-learn-about-the/article_ca7eedcd-e5a4-59a2-9815-05f860da9cbb.html 
https://dfw.cbslocal.com/2019/06/13/summer-camp-takes-students-to-new-heights/ 
Because of interest and demand, camp organizers are exploring ways to expand the experience to more campers in Summer 2020. The power of the program was demonstrated this spring when the program saw its first ACE camp participant graduate from the Aviation Maintenance Technology program. 
Seven even Northwest Campus students ranked among the best in the nation at the Business Professionals of America (BPA) leadership conference in Anaheim, Calif. May 1. TCC students competed against 500 others from community colleges and universities across the country in workplace skills assessments. Contests included written tests as well as scenario-based exercises. Team members Kelly Farr, Matthew Musgrove and Edwin Revolorio took home a first-place award in the financial analyst event, and Joline Sikora took home a first place in the C++ programming event. TCC students took home nine top 10 awards, and seven top 15 awards in the nation.
Since 2009, the TCC Northwest chapter of BPA has won 42 national awards. TCC is the only community college in Texas to take part in BPA contests; those who qualified for the national conference competed against business students at four-year universities throughout the state.
Several Northwest Campus offices participated in Fort Worth ISD's Vital Link Intern program during the week of June 17. Twenty students from Fort Worth ISD engaged in half-day internships in offices like Career Services, Student Activities, the Transfer Center, the Fire Service Training Center and the Intercultural Network.  This internship program is designed to demonstrate the connection between what is learned in the classroom and what is needed for success in the workplace.
Associate Professor of English Krista Rascoe presented her paper "Pound and Hemingway: Ambulatory Medical Terminology to Create a Paralytic Image" at the Ezra Pound International Conference in Salamanca, Spain June 27.  She also chaired the "Pound's Economics" session on June 26.
The TCC Northwest Community Education and Engagement Division collaborated with Dr. Greta Bowling, Life Sciences Chair, and the TCC College Access and Community Outreach (CACO) office to attend White Settlement ISD's 10th Annual Community-wide Mad Scientist Night at Brewer Middle School stadium Sept. 9. Mad Scientist Night had numerous interactive science activities and experiments for kids of all ages,  including a petting zoo, a science show, Lockheed Martin's flight simulators, the Fort Worth Nature Center and many others. The TCC Northwest table included several science projects for attendees to try. The campus representatives also distributed information about TCC's credit and noncredit offerings. More than 2,000 people attended the event.
Dr. Carroll Savant, Associate Professor of English, received an advance contract Sept. 17 for his book project on literary horror through the Routledge publishing house. The book is entitled Horror in the Age of Steam and focuses on the development of horror as a literary genre, primarily exploring the nineteenth-century depictions of horror as a way of coming to terms with social, economic, environmental and technological change.
Alejandro Garza, Assistant Professor of Spanish, presented "Globetrotting with Alejandro: Connecting Cultures through Communication" in the Walsh Library Sept. 18. Professor Garza shared stories and photos from his experiences traveling to 111 different countries and offered tips for individuals interested in traveling abroad. About 75 students, faculty, and staff from different departments attended the presentation. Tina Ross, Associate Professor of Speech, organized the presentation as part of the Communications department monthly workshop series.
Demesia Razo, Director of Workforce Programs, was selected Sept. 23 as a program reviewer and as a committee member for scholarly paper selection for the National Association of Student Personnel Administrators (NASPA) 2020 Annual Conference. The conference will be held in Austin, TX March 28 through April 1. In her role, Razo will assist in the selection of programs for general conference sessions and will help to curate the scholarly papers program and session moderators for the conference. NASPA is "the leading association for the advancement, health and sustainability of the student affairs profession."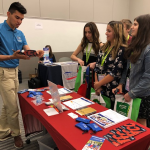 Community Education and Engagement participated in the Workforce Solutions North Central Texas iWork Youth Career Exploration event Oct. 9. This event was hosted by Workforce Solutions North Central Texas and encourages seventh grade through high school students, young adults and educators to explore careers in high-demand Texas industries by networking with colleges and employers. TCC Northwest's tables had several interactive activities and experiments for students interested in exploring various career opportunities and provided them with information about TCC's credit and noncredit offerings.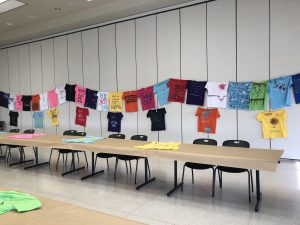 Student Conduct & Prevention Education and Student Activities collaborated on the Clothesline Project Oct. 16 and 17.  The Clothesline Project is a national movement for people to recognize the impact of violence on our community.  It was created to bring awareness to the issue of violence against women, men, and children. For those who have been affected by violence, it is a means of expressing their emotions by decorating a t-shirt.
TCC Aviation proudly showcased the Flight and Maintenance programs to more than 130,000 people at the Bell Fort Worth Alliance Air Show Oct. 19 and 20. The group was able to plant the seeds of aviation to over 23,000 youngsters in the discovery zone STEM area. This was the most successful air show to date, thanks to teamwork and a dedicated group of volunteers.
The Spanish department hosted its annual cultural event of Dia de los Muertos Oct. 24. At the event, students, faculty and staff learned about this cultural tradition through two presentations that explained the history and meaning of Dia de los Muertos. Students participated in the dress-up contest as Catrin or Catrina, played loteria and enjoyed tamales, pan dulce and the beautiful traditional decorations, including altares.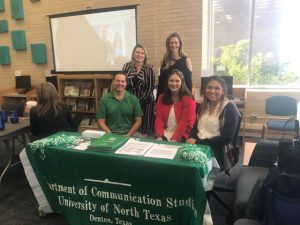 The Speech faculty hosted "What Can You Do with a Communication Degree? Career Pathways in Speech Communication" in Walsh Library Oct. 23. Seven speakers with a background in communication, including TCC Northwest Police Capt. VaNessa Harrison, shared their career stories and offered advice to students. The speakers currently work in various fields, such as law, marketing, education and human resources.  Also present at the event were representatives from the University of North Texas. Dr. Brian Richardson, the Communication Studies department chair at UNT, spoke to the students about their program, highlighting that they are very transfer-friendly. One student commented after the event: "I always thought a communication degree was only useful for broadcast journalism or politics. I now know that it is useful for almost any profession from advertising to being a police officer."
A Collegian article about this event has been published online: http://collegian.tccd.edu/what-can-you-do-with-a-communications-degree/.
Eighteen students in the LMGT 1325 Warehouse Management classes of Mark Sluder and Mike Esquivel toured the DHL Supply Chain LEGO facility Nov. 4. A graduate of TCC Northwest's Logistics AAS program, Jeremy Mann, is now an Operations Manager with DHL and hosted the students for the tour. DHL operates the 1.4 million square foot warehouse that holds the entire North American inventory of LEGO toys. Mann walked the students through each part of the operation, from receiving pallets of product, pallet break down into individual orders and preparing the product for shipment. The students saw how the labor force worked with equipment and technology, including voice-picking. This was a great opportunity for the students to see firsthand the culture of innovation at DHL and its diverse workforce.
TCC Northwest hosted Pathways Exploration Days sponsored by the Humanities Division Nov. 5 and 6.  This two-day event is designed to help students clarify their path, get on a path and stay on a path to student success. Advisers, academic departments, universities and employers, along with representatives from the Transfer Center, Career Services, Financial Aid and Catholic Charities' Stay the Course program were on hand to assist the more than 350 students who attended. With about 50 faculty and staff participating, the event reflected a collaborative effort between Academic Affairs, Student Development Services and community partners.
Career Services collaborated with Carmen Wise, Instructional Technician at CEATL to hold an Aviation, Transportation and Logistics job fair Nov. 14. Employers came to offer jobs to students and graduates of the Center's programs. More than 25 employers were present. Cassie Fennel with Career Services assisted attendees in perfecting their resumes the week before and day of the event.
The Walsh Library collaborated with the Student Retention NWISE Team to host TCC Northwest's first annual Gaming for Change tournament Nov. 15. This event allowed students, staff and the community to build closer connections while enjoying friendly competition and learning about further educational and career opportunities in the gaming industry.  More than 100 TCC Northwest students participated in the tournament. 
Fifteen students from TCC Northwest's Men of Color Collaborative attended Train for Success sponsored by Delta Mu Boule Nov. 20. The event consisted of riding on the BNSF passenger train from Downtown Fort Worth to a designated location and then returning to back downtown.  During the train ride, male professionals of Delta Mu Boule met with students in small groups based on career pathways to discuss their educational journey.  These interactions were coordinated throughout the ride and allowed students to ask questions in the hope of finding a connection between their aspirations and the experiences of Delta Mu Boule members. Students had the opportunity to speak to entrepreneurs, lawyers, doctors, realtors, engineers, educators and more.  TCC Northwest's 15 students were among the 45 TCC students who participated in the event.