Tarrant County College Culinary Arts instructors earned accolades for their creations at the DFW West 2019 Fort Worth Food & Equipment Expo, sponsored by food and beverage distributor Ben E. Keith Company.
Representing TCC were Nathan Price, purchasing manager and instructional assistant for culinary arts; Chef Alison Hodges, instructor of culinary and pastry arts; Chef William Hodges, adjunct pastry instructor; and Chef Katrina Warner, program coordinator and instructor of culinary arts.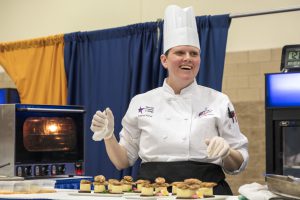 The TCC team competed in an American Culinary Federation (ACF) Contemporary Hot Food category, which included 10 professional chefs and required them to develop and prepare a meal using quail as the main dish. They had one hour to cook their meals and placed as follows:
Nathan Price, jerk quail with pineapple and red cabbage salad, plantain fritters and lime coconut sauce: bronze medal
Alison Hodges, quail roulade stuffed with mahon curado cheese and spring vegetables, with cranberry quail reduction, orange cranberry couscous and sautéed chard with pine nuts: bronze medal
William Hodges, teriyaki-glazed quail with cilantro pepper quinoa and kimchi-spiced bok choy: silver medal
Katrina Warner, pan-seared quail, glace de Caille, russet and celeriac mash, roasted beet medallions, pickled quail egg and fried celeriac greens: silver medal and 3rd place overall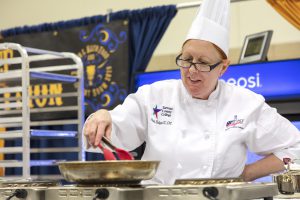 "I continue to be impressed with the work that Chef Katrina Warner and her team do at TCC and in the culinary community," said Patrick Mitchell, CEC, AAC, executive chef and culinary advisor for Ben E. Keith Foods – DFW Division and a member of the TCC Culinary Arts advisory board. "All of these competitors challenged themselves and came up with unique, delicious recipes. They bring that creativity and drive to the classroom as well, preparing their students for the thriving, competitive culinary industry."
Culinary Arts is offered at TCC Southeast in Arlington. It is the only comprehensive, American Culinary Federation Education Foundation (ACFEF) accredited culinary program of study in Tarrant County. Featuring faculty with years of professional experience and state-of-the-art food service and dining facilities, the program is designed to give students the knowledge and skills to enter a career in commercial food preparation. Graduates earn an Associate of Applied Science or certificate in Culinary Arts, a Baking & Pastry certificate or a Catering/Private Chef certificate. Nationally, employment of chefs and head cooks is expected to grow 10 percent between 2016 and 2026, faster than average for all occupations. For more information on Culinary Arts at TCC, visit the TCC website.