Learning to fly a helicopter isn't easy—especially in your second language.
That was the scenario faced by Tarrant County College student Yuno Niwano, who emigrated from Japan to pursue her dream of becoming a news helicopter pilot.
"When I researched getting helicopter flight training, I found out that the training cost is more affordable in the States compared to Japan," said Niwano. "I also figured there are more opportunities as a helicopter pilot in America."
She looked into a variety of programs. TCC stood out because it would give her the opportunity to earn her Associate of Applied Science in Aviation Technology and her pilot certification at the same time. Niwano was also drawn to the Dallas-Fort Worth area over cities such as Los Angeles and New York, which have higher populations of Japanese-speaking people. She wanted to be forced to speak English in order to improve her language skills.
In 2017, Niwano left behind her family and all she knew for Fort Worth and TCC Northwest, which is home to the Erma C. Johnson Hadley Northwest Center of Excellence for Aviation, Transportation & Logistics.
"I could read and write in English, but I couldn't understand what the instructors were saying at the first program orientation," she admitted. "And I had to stop and think about it when I wanted to say something."
To improve her language skills, Niwano practiced conversing with her boyfriend, whom she met at the pilot program orientation. When she could not come up with an English word, she made sure to look it up when she got home. She also listened to podcasts. Still, undertaking a complicated field of study in English was a major hurdle for Niwano.
"When I started the program, I didn't know anything about helicopters," she said. "I had trouble with learning about completely new subjects in my second language. Even if I was better at English back then, it would still be really challenging to me."
The most challenging aspect was listening to her instructors explain flight concepts. To compensate, Niwano read her texts over and over.
"I could read at my pace, so I read the textbook before and after class," she said. "There is a massive amount of information that pilots have to know, so it took me many times to read and learn from textbooks. But eventually I could catch up with my classmates, and I got better at absorbing information from my instructors."
Ben Wagner, Niwano's primary flight instructor, saw the change in his student.
"When I first started flying with Yuno, her English was pretty rough, along with her flying ability," said Wagner, senior helicopter flight instructor for the Rotorcraft Professional Pilot Program. "But over time her English slowly improved as she talked on the radio, and I was able to get her flying in order where she didn't look like she was out of control in the sky."
As her flying abilities and language proficiency grew, so did Niwano's ambitions. Once she was confidently and safely piloting the helicopter, Niwano began studying to become a certified flight instructor as well.
"I am now working on my instructor certificate, and this is the hardest part as an international student," said Niwano. "I have to teach how to fly in my second language. The instructor is responsible for students' safety, so there shouldn't be any confusion in my instruction. It is very challenging to explain clearly in my second language."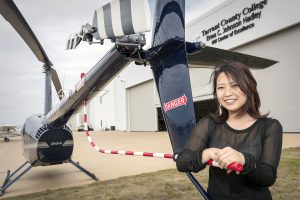 To ensure she is able to do so, she gives practice lessons to her boyfriend, who is also studying to become a flight instructor.
"My boyfriend has helped me a lot on my English. He taught me a lot of new phrases, slang and American culture," Niwano said. "Since we both have a passion for flying, we can share information, motivate and help each other."
Niwano's hard work has paid off. She expects to graduate in May.
"What makes Yuno so successful is her drive and determination," said Wagner. "I've had many students, but she stands out with her endless desire to learn the material and gain as much experience as possible. If I gave her homework or a subject to study in the following week, she would stay up past midnight that evening learning and come in the next day having a full understanding of the topic." 
Wagner is also impressed with Niwano's ability to establish herself in a new country.
"Yuno has done what many wouldn't or couldn't do," explained Wagner. "She flew into Texas with just her luggage, found a place to live, bought a car and enrolled in school all on her own, without any friends or family really helping her. Once enrolled, she stuck to her book work and focused on the reason she was here: to become a professional helicopter pilot."
In addition to meeting her career goals, Niwano has found personal happiness as well, and much of that is due to the community she found at TCC.
"It was easy to make friends who I can hang out at the campus with, and every time I go to school, there is someone I know," said Niwano. "My pilot friends are the reason why I didn't feel lonely."
This story is the latest in the "What's stopping you?" series, celebrating members of the TCC community who don't let challenges get in their way.