Preparing the next generation of culinary leaders and innovators.
After losing his job due to pandemic layoffs, Chris Spradlin decided there was no better time to pursue his culinary dreams. TCC's Culinary Arts program provided him the education he needed to get there.
Over the last 20 years, Culinary Arts has grown to become one of the top culinary programs in Texas, and the only one in Tarrant County accredited by the American Culinary Federation.
Spradlin learned food service industry practices and techniques in state-of-the-art kitchens and dining facilities. His training was so thorough that even as a student, Spradlin began working with Magdalena's, a renowned catering and events company; this year, the Fort Worth chapter of the Texas Chefs Association named him Culinary Student of the Year. Spradlin now serves as sous chef for Magdelena's and even has his own personal chef and sommelier services business, called Bistro Christo. He credits TCC for where he is today.
A Menu of Choices
The College's Culinary Arts program (located at TCC Southeast) provides top-tier training at a fraction of the cost other culinary schools charge.
"I chose TCC because they had the most programs to choose from for the best price," said culinary student Brittany Lawson.
Students can earn the culinary arts associate degree as well as their choice of certificates in culinary arts, baking and catering/private chef. These courses of study provide not only hands-on technical abilities—such as sanitation and safety, preparing meals and principles of healthy cuisine—but also supervisory and business management skills.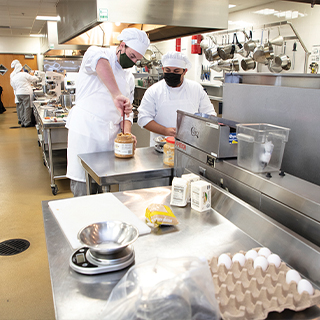 "We teach them how to be a manager, how to do human resources, how to hold an interview, how to deal with workplace stress," said Chef Katrina Warner, the program coordinator. Nathan Price, a program graduate who now serves as an instructional associate, adds:  "We're not training line cooks—we're training people to run the kitchen."
Culinary Arts educators bring years of professional experience to their classrooms and kitchens. Warner was recently inducted into the World Master Chefs Society, for instance, and instructor Alison Hodges has won Pastry Chef and State Chef of the Year at the Texas Chefs Association convention.
Students appreciate the program's high standards and its commitment to helping them achieve their goals. While Culinary Arts has a suggested order of courses, students can schedule them as needed to fit their busy lives. LaToya Robles, a recent culinary graduate, thinks people should look into TCC's culinary program because of its flexibility and diversity. "I'm older and I went back to follow my dreams," said Robles. "Students are all ages, all races, even the faculty was really diverse."
Meeting the faculty and entering the College's Culinary Arts facilities for the first time made a big impression on Karriem Sultan, who graduated from the program in 2014 and now has his own private chef and catering business. "I was like a kid in a candy store," said Sultan. "I started looking up when the next class was, and once I got into the program, it was life-changing."
Connecting Students to Careers—and Their Passions
Robles feels the same way. Though she was focused on a different aspect of culinary arts, the program introduced her to pastry creation. That sparked her creativity—and she went on to found The Salted Crust, a custom dessert company.
While some graduates, such as Sultan and Robles, go on to own businesses, others use TCC alumni connections to land jobs in Tarrant County and beyond. Chef Warner manages a Facebook group for students and alumni that connects employers and job seekers. The group also posts opportunities to learn and network with other alumni and local industry leaders.
"While there are thousands of restaurants, the culinary industry can be a really small community," said Spradlin. He anticipates hiring TCC students in the future because he knows what kind of education they have and that they'll be able to meet his expectations in the kitchen.
Of course, what students learn at TCC does much more than give them the skills for a successful career. For Sultan, the Culinary Arts experience was a pathway to achieve more in life. "This program is not just about cooking," he explained. "It's about life skills."
The Next Course
Culinary Arts will soon have entirely new resources to offer students. The department's facilities, along with the rest of TCC Southeast, are undergoing renovation as part of TCC's 2019 Bond Program. Culinary Arts will be housed in a newly constructed academic building.
"The whole first floor is going to be for culinary and hospitality," said Chef Warner. "We're going to have three brand new kitchens, a large restaurant, a bar and outdoor seating."
The expanded space will allow the program to serve and educate more students, priming Tarrant County for of the next generation of chefs and other culinary leaders.
"After graduation, I hope to open a bakery and coffee shop near one of the campuses," said Lawson. "And one of my long-term graduation goals is to teach in the culinary department here at TCC."
To learn more about the Culinary program at TCC Southeast, visit tccd.edu/CulinaryArts.
---
This article was originally posted in TCC's award-winning publication, REACH Magazine. Read more at tccd.edu/magazine.