Welders, who play an essential role in a lot of manufacturing and construction projects, are in short supply. TCC Northwest has stepped in to help fill the need by opening a new Welding Technology program at the Center of Excellence for Aviation, Transportation and Logistics (CEATL) at Alliance Airport.
The American Welding Society predicts there will be a shortage of 300,000 welders by 2024, despite this being a high-salary field. Moreover, less than 20% of welders are under the age of 35 and the average age of a welder is 55, so this gap will only continue to widen.
Why the shortage? Dean Clint Grant points to an increase in manufacturing being brought back from overseas at the same time hundreds of infrastructure programs are getting off the drawing board and underway. "It's hard to realize how quickly the demand for trained welders has grown," he said.
Program Coordinator Mike Medina added that the shortfall seems particularly acute in the Northwest service area with the large presence of the aircraft industry. "I think that was one of the biggest drivers in that a local industry was looking for training nearby," he said.
Yet another factor is the aging of the current welding force, 60 percent of whom are 55 or older and nearing retirement.
Aware of the need to beef up the welding program, TCC issued a report cataloging the problem and proposing solutions in 2018. Three plans were on the table. First was an expansion of the present program at TCC South, second was the creation of a new program at Northwest, and third was to support the expansion of welding programs in area high schools.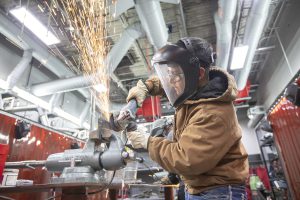 Welding had been a fixture at South ever since the campus opened in 1967. The program served 470 students in 2016-17, 132 of them thanks largely to a new lab. There was still plenty of room for growth. Once the board established the plan for welding to expand to the TCC Northwest, instead of showing reticence to share the spotlight, TCC South embraced the new trajectory of the program, offering resources and insight to Northwest.
"I knew something about welding – probably just enough to make me dangerous," Grant said. He praised the efforts of former South Dean Ernest Gines and Welding Program Coordinator Doug Barnett in setting up and equipping the Northwest program and gave a shoutout to faculty members Joseph Voltz and John Rogers, who taught classes in the interim before Medina was brought on board.
Medina comes to Texas and Fort Worth from California, "but don't hold that against me," he said. He has 27 years of welding experience ranging from pipe fabrication to aerospace welding to ornamental iron work. He began teaching in an employer's apprenticeship program and "fell in love with it. I started teaching part-time, then I wound up getting a full-time position with a couple of community colleges."
TCC's Welding Technology program offers basic and advanced certificates of completion as well as the Associate of Applied Science degree. While it's possible to get a job with only a basic certificate, students are advised to progress to the advanced certificate and the degree to increase both their skill level and their qualification for higher-paying positions. "A student can actually finish our program, walk into an apprenticeship program and get credit toward their required years of service," Medina said.
Although the Northwest program has the same curriculum as its older brother on South, the emphasis leans a bit toward aerospace welding. "What we're finding is students will come in and see all the different aviation components at CEATL and I guess it tickles their fancy to the point where they think, 'Wow, I really want to get into the aviation industry,'" Medina said.
And that's perfectly OK with him. "I think it's the best thing for any program to tailor themselves to the local industries, and aerospace is really big out here," he said. So far, his tailoring has included incorporating projects that mimic the kinds of materials, including aerospace, that students will see on the job.
The program has proved so successful thus far that Medina is already talking about expanding. Enrollment has reached capacity, and "I've had to turn some students away. In a way, that's a good burden to have, but I hated to have to do it.
"They (South) have a really big, expanded program. I'm hoping that one day we get that big. Right now, our space won't allow it, but we'll expand, and it'll be a full house, for sure."