In the world of higher education, the term Learning Commons is still unfamiliar and new. Students may understand it as a service the college provides to help with MLA formatting or assembling peer-reviewed articles for a research project. But to transform how TCC meets the academic needs of its students, the college is entering into a season of dynamic metamorphosis.
To make this evolution more visible at TCC Northwest, a team led by Dean of Learning Commons Eric Camarillo, Director of Library Services Alex Potemkin and Director of Learning Support Services Holley Rider, is busy crafting robust services to become the first stop for students' academic needs outside the classroom. But first, there's the campus redevelopment project to contend with.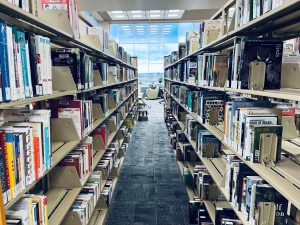 The division currently offers traditional library and tutoring services along with workshops, test review, and Supplemental Instruction. But throughout redevelopment, the Learning Commons has been strapped for space, relying on digital support and online service delivery while sharing classrooms, labs services and repurposed pockets of campus activities to meet the needs of its students.
Rider sees the present challenges as an invitation for the branches of the Learning Commons to come together as a cohesive unit and streamline communication and resources. She frames redevelopment as an integral growing phase to help the one-day, co-located Learning Commons flourish. And even though the Northwest Campus is working through shifting parking lot locations, loud construction and limited space, what drives the Learning Commons leadership is their excitement for their new space at the conclusion of redevelopment. At that point, Learning Support and Library Services will be housed on the second and third floors of one building (NW 04), part of a new, state-of-the-art campus. Then, the division will be able to provide dynamic services that transcend the expectations of students and the community.
"In the future," Rider said, "I see [the Learning Commons] expanding into a body where we can share information and the load of responsibility of meeting student needs seamlessly." Potemkin shares a similar vision, saying that every student should know that the Learning Commons should be their "First Stop" for academic support outside the classroom, "Need more articles for your research?  Learning Commons. Not sure how to format that paper?  Learning Commons. Need tutoring for that big biology test? Learning Commons – your first stop" he said.  The second floor of NW 04 will house the library, writing and reading center, the World Language Center and a One Button studio and podcast recording room. The third floor will be dedicated to SI and STEM services – science, computer science, math tutoring, and an AR/VR gaming room to boot. The vast array of Learning Commons services will all be collected in close proximity to simplify and streamline academic support for students.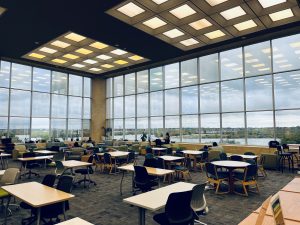 Dean Camarillo notes how this cohesion means that students won't have to navigate a sprawling campus to find assistance – it will all be convenient, accessible, and fine-tuned to meet the needs of TCC Northwest's diverse body of students in a timely and efficient manner. The new look and function of the Learning Commons supports TCC's goal of being student ready by providing a dynamic and flexible learning environment.
This shift is one of innovation and imagination that repurposes the traditional understanding of libraries. By transforming the college's extra-curricular support systems into a robust, student-driven model that deconstructs barriers to learning and success, the LC is improving the accessibility of TCCs wide array of resources. The redevelopment of the campus, coupled with the evolution of the Learning Commons, promises to be an exciting and productive chapter for the college, one that TCC Northwest is eager to see unfold.