Exploring Learning Commons throughout the Community
TCC is justly proud of being known as "the people's college," but Sean Madison offers a reminder that it's a two-way street. "We know they come to us," he said, "but to what extent do we go to them?"
Madison, president of TCC Trinity River, made his contribution Sept. 23 by leading a "Community Immersion Experience" during which leaders of the nascent Learning Commons Divisions on the College's five brick-and-mortar campuses went into the hearts of Fort Worth and Arlington to get the flavor (sometimes literally) of diverse neighborhoods and their residents.
Madison and Zena Jackson, vice president of academic affairs at TCC Southeast, spearheaded the creation of the Learning Commons as part of the College's 3G8P (three goals and eight principles) initiative. The program will combine the many learning support areas – the libraries and various learning labs for disciplines such as math, reading and writing – in order to bring more cohesion and interaction to areas that complement classroom instruction. The present directors of library services will be joined by directors of learning support services, and both will report to a dean of Learning Commons.
Learning Commons is the combination of many learning support areas (such as libraries, labs and tutors) to complement classroom instruction.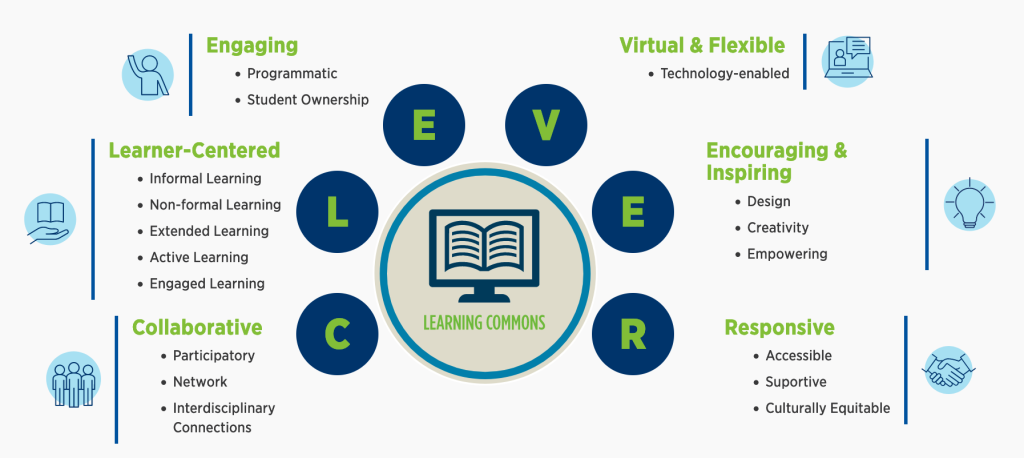 Starting from TCC Trinity river, the group's first stop was a Tex-Mex breakfast on Fort Worth's North Side where their work was praised by Interim Chancellor Elva LeBlanc as perhaps the first of the College's 3G8P groups to near completion. She also saluted the purpose behind the day's events. "This is a promising practice and one that we may want to implement moving forward with other TCC groups," she said. "We need to know who we are serving and the communities that we are serving."
Next came a tour of North Side High school led by Principal Tony Martinez, who earlier at the breakfast had said that TCC is where most of his students begin their college studies. Highlight of the visit was a visit to the new school library made possible by a Fort Worth ISD bond program.
It was then a short jaunt to Diamond Hill-Jarvis High School, North Side's historic rival and whose principal, Jim Garcia is a good friend and golfing buddy of Martinez. A panel discussion included TCC Director of Creative Services Arturo Martinez, a DH-J alumnus, and Collective Leadership Strategies chairman and founder Jonathan Perez.
Perez is also a DH-J alumnus, sort of. He failed to graduate, having been incarcerated at about the same time his former classmates were crossing the stage. "Everyone else had their senior pictures taken wearing suits," he told the group. "I had a mug shot." But he was later able to fulfill the request of a dying grandmother by earning a GED, going on to TCC and recently earning a doctorate in educational leadership.
Perez's story particularly resonated with TR Learning Commons Dean Israel Sanchez, who grew up in a Florida migrant labor camp where children had little supervision. "Naturally, we sought validation outside of our homes," he said. "Several of the people I grew up with, including family and friends, did not make it. Some are in jail and others, sadly, are dead."
The visit ended with a surprise speaker – TCCD Board of Trustees President Teresa Ayala, also a DH-J alum. "I'm sure the panelists have given you all sorts of details about our community," she said. "But it really is important that you come out and learn as much as you can because that's what we are trying to do – meet the students where they are."
Lunch at a B&B/restaurant/event space/spa in Arlington followed, and the TCC visitors heard from Natalie Young Williams, executive director of Tarrant To & Through (T3), a non-profit that partners with school districts, colleges, universities, employers and organizations to inform and engage students and families about college and career pathways. TCC is one of their largest partners. "We know that everyone wants to find a pathway to financial sustainability," she said. "That means certification or credentials, and that's a huge partnership in cooperation with TCC."
Next on the tour was the Arlington Boys and Girls Club, a non-profit that provides a safe place for young people to learn and grow during out-of-school times. The host was Jared Cobb, former director of student activities at TCC South and now the club's senior director of programs.
The focus stayed on young people's education with a visit to the Paul Lawrence Dunbar Young Men's Leadership Academy in east Fort Worth. This all-male school for grades 6-12 is part of the Fort Worth ISD and has as part of its mission to "cultivate and empower all young men through Perseverance, Resilience, Integrity, Discipline, and Excellence by developing academic scholars for generations to come."
The academic curriculum is rigorous, and the emphasis is on honesty, personal responsibility and self-confidence. When Principal Rodney White introduced a group of five students who shared their aspirations, that self-assurance shone through. Dominique Baker didn't just say what he hopes to do, but instead exclaimed, "I WILL attend UT-Austin, and I WILL major in sports medicine."
Several of the TCC contingent were moved, including Joseph Cunningham, Learning Commons dean at South. "I was deeply impressed by the poise of those students," he said. "The culture of the academy truly sets students up for success."
The final stop was at the Lenora Rolla Museum, a jewel tucked away in eastern Fort Worth that celebrates the accomplishments and contributions of generations of Black citizens. Brenda Sanders Wise acted as docent, taking the group through rooms of exhibits ranging from annals of enslavement to a prominent portrait of former TCC Chancellor Erma Johnson Hadley. The tour included another surprise visitor, TCCD Trustee Gwendolyn Morrison.
The museum was an eye opener for Susan Smith, dean at TCC Northeast. Besides having, as a librarian, a natural affinity for such an organization, she was "just blown away by all the stories she (Wise) shared with us and appreciated how she explained what they share with children and other groups."
Back at TCC Trinity River, Madison wrapped up the day, noting that this tour had barely touched the range and diversity of Tarrant County and that he hopes to make it an annual event. The Learning Commons, he said, can establish the benchmark for other areas of TCC. "I think the way that you're going to engage the community as a team will be a model for others," he told the group. "Hopefully, today has been meaningful for you."
It certainly was for Holly Rider, director of Learning Support Services at TCC Northwest. "I had knowledge of the barriers our students face," she said. "But it wasn't until coming into their community and talking to their leaders that I understood the weight of those barriers and how impactful they can be to their success as college students. This trip has given me a drive to help break down those barriers through the Learning Commons."
---
To learn more about Learning Commons, read Common Grounds in REACH Magazine.