The Collegiate Academy of Birdville (CAB) — a collaborative partnership between Tarrant County College and Birdville ISD – soon will send its first cohort of 11th graders to the newly opened satellite campus at TCC Northeast.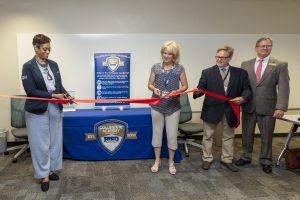 After spending their first two years at Haltom High School, approximately 60 CAB students are transitioning to the Hurst campus for all college level courses and some high school classes. By the end of their senior year, students will have earned an associate degree or certificate from TCC, only weeks before earning their high school diplomas. The inaugural Collegiate Academy of Birdville graduating class is expected to walk in May 2023.
"Collegiate Academy of Birdville offers yet another pathway to success for BISD students in addition to traditional dual credit and Career and Technology courses," said TCC Northeast Director of Academic Affairs Catherine Carter. The Early College High School model is intended to enroll historically underserved students.  BISD conducts interviews and uses a weighted lottery to ensure that the demographics of the CAB reflect the district's demographics.​
Established in 2019, CAB follows a "school within a school" model, with students attending all 9th and 10th grade classes at Haltom High School. Students then transition to TCC Northeast in the 11th grade for all college level classes and some high school classes. If students are interested in pursuing extracurricular activities such as sports or arts, they can do so through Haltom High School.
CAB is one of more than 100 Texas Education Agency (TEA) Early College High Schools, which are innovative high schools designed to help historically underserved students achieve their college goals, completely free of charge. College tuition, fees, textbooks and computers will be available at no cost to all CAB students.
Each year, CAB admits roughly 60 students as 9th graders and re-levels prior to 10th grade with students who were waitlisted in 9th grade to maintain the 60-student target.  There will be no admissions after 10th grade.  This will result in a maximum total enrollment of 240 students in all four grades. Birdville ISD will conduct interviews and use a weighted lottery to ensure that the demographics of the CAB reflect the district's demographics, according to Carter.
"TCC Northeast is committed to serving our ISD partners, students, and parents in our service area," said TCC Northeast Vice President of Academic Affairs Ritu Raju. "We value our partnership with Birdville ISD and are excited to have our Collegiate Academy of Birdville students on our campus."
Over the years, TCC and Birdville ISD have partnered to deliver an array of dual credit offerings, including those in career and technical education, to students at BISD high schools. In Fall 2020, Birdville ISD had 455 dual credit students taking classes through TCC Northeast, with Richland Senior High School and Birdville High School being two of the top three feeder schools for the Hurst campus.
Since opening Marine Creek Collegiate High School at TCC Northwest in 2010, the College has partnered with several ISDs to offer Early College Schools to Tarrant County high school students. For a complete list, visit TCC's Early College High Schools webpage.
Learn more about the Collegiate Academy of Birdville.