When graduates of Tarrant County College Northwest matriculate at colleges and universities this fall, many will owe part of their success to help they received from the Transfer Center.
TCC Northwest's Transfer Center was founded in fall 2015 as an office that offers a wide variety of services for TCC students interested in transferring to four-year universities. Services include connecting students with on-site university representatives and providing information on transferring, including how-to and application assistance. They also provide scholarship information and put together TCC-sponsored university campus visits.
"As the Transfer Center coordinator, I play many roles, such as advisor, unofficial counselor, researcher and event planner," writes Rachelle Alvarez, coordinator of the Transfer Center since spring 2017. "My job is to assist our students in planning the best path for their four-year degree. I work hard to make the best of my student meetings, helping them understand all of their options academically and financially.
In the year that Alvarez has been in her position, the Transfer Center has seen a dramatic increase in use, going from just over 750 visits in its first year to more than 4,000 visits since spring 2017.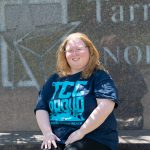 Among the many success stories coming out of the Transfer Center is Stacie Hill, an upcoming TCC graduate who is transferring to Texas Wesleyan University to study sociology.
"I came back to Tarrant County College after a 13-year break," Hill writes. "As a naturally shy person I told myself to join clubs and break out of my shell, I ended up being an officer in several of those clubs…These last two years have flown by and as of today, I am in my graduating semester at Tarrant County College. I have been able to maintain a 4.0 GPA, I have been accepted into and am a member of Phi Theta Kappa and Sigma Kappa Delta."
Hill has also been awarded a scholarship of almost $25,000 from Texas Wesleyan.
"The Transfer Center (Rachelle Alvarez in particular) has been able to give me so much information," Hill adds. "They have helped me realize my purpose as well as help my anxiety caused by my 'perfectionism.'"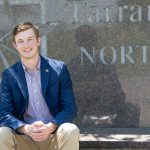 Another transfer success story comes from Brandon Ezell, who is set to graduate with an Honors Associate of Arts degree from TCC in May. While at TCC, he was involved in the Cornerstone Honors Program, competed in the Great Plains Honors Council Convention and was president of the Student Government Association's Executive Board.
"This has opened many opportunities to communicate with my fellow students as well as faculty, staff and the administration. Tarrant County College has provided me with knowledge, study skills and leadership ability to prepare me for TCU and my future career," said Ezell, who will be transferring to Texas Christian University with more than $66,000 in scholarships. He plans to study Finance and hopes to become a portfolio manager at Goldman Sachs.
Alvarez finds a lot of personal motivation and satisfaction in her position.
"I truly find passion in what I do, not only because I enjoy watching our students meet personal goals, but because I'm a TCC transfer alumnus myself," Alvarez writes. "I often see myself in many of my students as I'm assisting them with the transfer process. It means a great deal to me when my students come back excited about where they got accepted and what scholarships they received."