In a collaborative effort, Business, Entrepreneurship and Small Business department chair Lourdes Ramboa and Community and Industry Education coordinator Marisa Galaviz launched the Entrepreneurship Series 101. The series includes eight continuing education courses for new and current small business owners to gain knowledge, skills and resources required to launch new ventures and other entrepreneurial activities.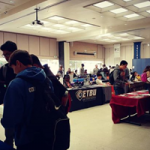 The TCC Northwest Transfer Center hosted an annual transfer fair in January, organized by the Texas Association of Collegiate Registrars and Admissions Officers (TACRAO). Fifty universities participated, and 326 students attended.
Basic Peace Officer Academy Class 185 passed the state licensing exam with 100 percent success, further continuing the TCC Police Academy's nearly 10-year streak of earning a 100 percent first-attempt pass rate on the state exam. Cadets also met the required physical training standards with a 100 percent final assessment completion.  Twenty-two officers graduated from the program on Jan. 10 at a ceremony held at TCC Northwest.
Jaye Simpson, associate professor of Accounting, reports that five students from the TCC Northwest chapter of Business Professionals of America advanced to the Business Professionals of America State Leadership Conference in Corpus Christi in March. The students are Rachel Wood, Fundamental Word Processing; Conner Burt, College Accounting; Christian Anglin, Managerial Accounting; Kristina Gebel, Presentation Management and Micayla Martinez, Interview Skills.
TCC Northwest CIE team representatives participated in a Career Expo on March 31 to share information of current programs in the CIE Department. Students learned about certifications, technical two-year and transfer degrees and financial aid options.
Michael Esquivel, chair of the Logistics and Supply Chain Management Department; Keva Montrose, CTE advisor and Ryan Kelly, coordinator of College Credit for Heroes, worked together to create a new grants initiative benefiting veterans. The Logistics and Supply Chain Management Department collaborated with TCC's Office of Grants Development and Compliance to launch a new Texas Workforce Commission grant opportunity for military veterans who want to complete an accelerated logistics program. Veterans may receive course credit based on an evaluation of the student's military experience. The accelerated course schedule enables participants to complete two Certificates of Completion (in Warehouse Management and Transportation Management) in six months. Students can continue their studies and complete the AAS in Logistics and Supply Chain Management. Eligible students can use their VA and/or Hazlewood Act benefits, and textbooks are provided as part of this grant. Nine veterans began taking courses in the first eight-week semester. Courses continued in the second eight-week semester and are scheduled for both summer sessions.
Nine "career pathway" students have successfully completed FMKT-1015, Wedding Floral Techniques. These Community and Industry Education students are now eligible to complete the next and final course within the Northwest Campus Floral Design Certificate Program. This course FMKT-2035, Shop Management, begins April 14, 2018. Several of these students are now working in the floral design industry.
Adrian Cook, associate professor of Humanities, submitted his poem "The Road at Dusk" to the Poetry Nation National Poetry Contest and was named as a semi-finalist. The poem will be published in an anthology this summer.
Associate Professors of Dance Lacreacia Sanders and Amy Jennings, Associate Professor of Dance and Humanities Kim Jackson and 13 dance students traveled to the American College Dance Association Conference during spring break in March at Lamar University in Beaumont, TX. The ACDA Conference includes five days of classes, research presentations and adjudicated and informal concerts. The dance students performed three works during the conference. The choreography presented were works by Sanders, Jennings and student Gabby Cunningham. The two adjudicated works were also eligible for selection for the Saturday night Gala. Of 44 works adjudicated over five concerts, 12 were chosen for the Gala. Both TCC works were selected. This was a major accomplishment for the dance students, for all of TCC dance and for community college dance in general. There have only been two other times that TCC works were selected for the ACDA Gala, and both were more than 10 years ago.
Current PC Network Technician (PCNT) students finished their first section of the program CPMT 1011. All current students passed. They have now started the second section, CPMT 2045.
Student Activities held its inaugural Safe Spring Break event in March. This event featured safe spring break tips, music, games and treats. Many students stopped by to make a smoothie on Blue Zones' blender bike and to watch TX Dot's rollover simulator. Kona Ice, TCC Health Services, Northwest Campus' Walsh Library, the Veteran Success Center and Northwest's Student Government were also in attendance.
Student Activities hosted "Pizza with the President" on March 27. More than 400 students met and visited with our campus president, Zarina Blankenbaker.  Students and faculty members enjoyed pizza and drinks while getting to know Blankenbaker, and many testimonials and appreciation for TCC were shared that day.
Yonina Robinson, instructional associate in the Academic Learning Center, has been appointed to the TCU AddRan College of Liberal Arts Board of Visitors for a three-year term. The purpose of the Board of Visitors is to advocate for and support the Liberal Arts and AddRan College at TCU through events such as the Back-to-Class Night, the Robert D. Alexander Lecture in the Liberal Arts and the AddRan Distinguished Faculty Lecture.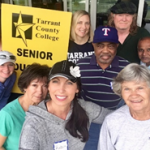 TCC Northwest Senior Education students, 55 and older, have participated in many new creative workshops this spring. The golf class is ready to compete in "Toro on the Green" after receiving professional golf lessons this month hosted at Top Golf Fort Worth and facilitated by golf instructor Janine Fellows. The Senior Ed Program, in collaboration with the NW Senior Advisory Council, continues to be innovative with community partnerships and class offerings.  Northwest has expanded its service to our senior community by offering a summer schedule of educational/fitness classes May through August.