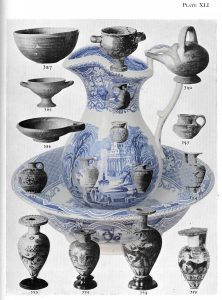 It's titled "'Ar(t)cheology': Excavations of New Figurative Artists: Bill Komodore, Rachel Livedalen, Audrey Travis," but it could just as well have been called "From Russia With Love."
The exhibit, which opened with a reception on March 6, will run through April 5 in the Performing Arts Center gallery.
"We have been collaborating with the curatorial program at Smolny College in St. Petersburg, Russia, to develop an exhibition of local Texas artists selected by the Russian students," said Joshua Goode, Fine Arts Department chair, prior to the exhibit. "The primary curator Veronika Nikiforova, is joining us through March 9 to finish preparing the exhibit, meet the artists and lead discussions on the emerging professional field of curating."
The exhibit is intended to bring together the work of the three artists who addressed issues pertinent to today's socio-cultural discussions through elaboration of the varied references to classical figurativeness. The exhibition provides a critical framework for designation of contemporary art foundations and its constituent components, connecting rethinking of classical tradition with social values and contemporary reality, challenging traditional notions of myth and symbol.
Komodore, who died in 2012, was a native of Greece who taught art at Southern Methodist University. Livedalen, who describes herself as "an interdisciplinary artist with a particular interest in print media," is assistant professor of printmaking at Texas Christian University. Travis, a New Mexico native, is a Master of Fine Arts candidate at TCU whose primary medium is sculpture.