As part of an annual campus tradition, Student Activities honored Veteran's Day with a campus display of American flags.  Students, faculty and staff had the opportunity to write the names of current or former service members on a laminated dog tag during the week leading up to Veteran's Day.  Each tag was tied to a flag and placed at the entrance of campus for display for five days.  The display illustrated the impact that veterans have personally made on the individuals of the Northwest Campus Community.
In November, Northwest Campus hosted Senior Preview Day, a day for area high school seniors to visit the campus and learn about programs and opportunities TCC has available.  More than 120 Northwest volunteers from all divisions and disciplines helped to make the day a success for our visiting students by creating interactive displays, holding information sessions, giving tours and serving lunch.  Students from Keller, Fossil Ridge, Northside, Boswell and Diamond Hill-Jarvis High Schools brought approximately 300 seniors to visit the campus on that day.  Surveys indicate a positive experience for both the volunteers and the visiting schools.
Also in November, Northwest Career Services hosted "Employers on Campus" and co-hosted the Erma C. Johnson Hadley Center for Excellence in Aviation, Logistics and Transportation job fair. Cassie Fennel and Justin Withem from Northwest Career Services also provided participants with resume assistance prior to their meeting with employers.
The Northwest Senior Education Advisory program hosted its annual Senior Education Holiday Bash on Nov. 17 to celebrate our amazing students, volunteer instructors and program administrators.  This year's theme was "Happy Days Are Here Again!", taking everyone back to the happy times, sounds and more of the 1950s.  Attendees were encouraged to come dressed fitting the time period and brought more than 400 pounds of non-perishable food items to donate to a Food Drive benefiting the NICA Food Pantry.
Fifteen instructors at Northwest's Fire Service Training Center got a chance to practice what they teach when their departments or task force teams were deployed to the Texas Gulf Coast in the wake of Hurricane Harvey. Their roles varied from rescue operations to command and control of resources. They, along with many of our previous students, undoubtedly used high-water rescue skills they learned in our Swift Water Rescue Training program to help in the rescue effort. Instructors participating were James Horton, Matt Gellar, Robert Simmons, Robert Lambert, Bill Ver Steeg, Michael Hanks, Donnie Hurd, Landon Stallings, Chanc Bennett, Michael McComis, Jason Grindstaff, Ritchie Tice, Jason Ticknor, Mike Noyes and Josh Clark.
Northwest Campus and Community Link hosted the food bank's annual Back-to-School Bash, which provided supplies and services for children throughout northwest Tarrant County. As part of the Bash, students received backpacks, school supplies, haircuts, eye screenings and glasses, books, and medical and dental checkups. The 4,079 attendees received 1,555 backpacks, more than 180 haircuts, 400 dental screenings and 190 vision screenings and were fitted with 83 eyeglasses. Many thanks to the 359 volunteers.
The Marine Creek Nature Discovery Center was developed to spread environmental awareness and appreciation among students and faculty through use of living laboratories in an effort to foster land ethics both on and off campus. Phase I of the Nature Discovery Center was completed during Summer 2017.
The Northwest Campus Vet Success Center opened in August 2017 to provide assistance to veterans in CIE and credit programs. Services include assistance in the form of counseling, advising and VA funding support.
Marine Creek Collegiate High School, an early college high school partnership with Fort Worth ISD, was recognized in the US News & World Report Best High Schools 2017 National Rankings, earning a bronze medal. Schools are ranked based on their performance on state-required tests and how well they prepare students for college.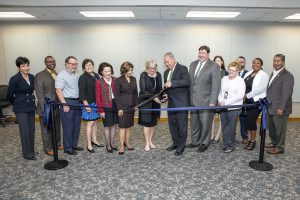 In September, TCC and Workforce Solutions for Tarrant County celebrated the area's newest Workforce Center with a special event highlighting career pathways for junior high and high school students. The Industry Discovery Expo also marked the official grand opening of the Center. The Northwest Campus and Workforce Solutions hosted a ribbon-cutting to celebrate the Center opening and welcomed 1,800 junior high and high school students from area ISDs including Fort Worth, Grapevine-Colleyville, Mansfield and Northwest. The Industry Discovery Expo featured information about in-demand training programs and interactive demonstrations related to regional industries. The Center provides a full range of services for job seekers, including job listings and referrals, professional workshops, job coaching and more. The Workforce Center also provides services for employers, such as applicant screenings and job fairs on this Northwest Campus site.
Through the hard work and dedication of our students, under the leadership of Theresa Heflin (English), Marine Creek Reflections was awarded first place in the division of Magazines from Small Colleges: Southwestern Division of the Community College Humanities Association.
In October Northwest Campus hosted the annual Abrazando al Exito "Embracing Success" – Noche de Culturas scholarship banquet. This Districtwide event serves to honor, recognize, celebrate and inspire Latino students working hard to accomplish their higher education goals at TCC.
Basic Peace Officer Academy Class 183 passed the state licensing exam on September 13, 2017, with 100 percent success, further continuing the TCC Police Academy's nearly 10-year streak of 100 percent first-attempt pass rate on the state exam. Fifteen new officers graduated from the program. All cadets were hired by local police agencies and will now go on to start their policing careers.
The Center and World Languages Lab sponsored ¡VIVA NORTHWEST! Latino Lecture Series Growing Up and "Making It: Latinos in Higher Education." Both events showcased the achievements and experiences of Latinos in higher education.
The Student Success/Critical Thinking Conference took place in September, chaired by Angela Chilton and planned by Student Success Committee co-chairs Zachary Frohlich and June Relyea. This year, 888 students attended across 11 sessions.
In October, President Zarina Blankenbaker welcomed more 150 young women from area ISDs who were participating in the Latinas in Progress Education Series sponsored by The Hispanic Women's Network of Texas, Fort Worth Chapter. LIP exposes senior high school Latinas to college life and provides them with the tools needed to succeed in their personal and professional life.
In October, the campus hosted 100 kindergarten students from W.J. Turner Elementary School. Turner Elementary is Northwest's Adopt-a-School partner. The program was coordinated by Alicia Coleman, with the help of Student Activities staff members.  Many departments participated in the event campuswide, making it a tour for the visiting students.