"This will change the way we work."
That's how Agnieszka Szuscik-Zieba, summarized a tour of Tarrant County College's health science and nursing facilities by a group of health care administrators from Poland.
"I think we've seen here some methods and attitudes that we can take and provide in our everyday work and that we can also pass along to doctors and patients," said Szuscik-Zieba, whose company trains physicians how best to interact with patients.
She was particularly impressed in that TCC teaches that a major part of patient care is to be empathetic and compassionate and to see to the patient's mental as well as physical state. "I never thought that teaching about patient-doctor communications and teaching about clinical services can be combined," she said.
She and five colleagues were in Tarrant County under the Open World Program sponsored by the Congressional Office for International Leadership. Established by Congress in 1999, the program brings emerging leaders from around the world to learn first-hand about aspects of American life such as government, health care and education. Delegates are hosted and specifics of the visit arranged by local groups such as Rotary Clubs.
It was the Rotary connection, in fact, that brought the group to TCC. When Senior Accounting Manager Stephanie Duelm, a member of the Mid-Cities Pacesetter Club, learned the club was to host a health care team, she thought TCC's nursing and health science programs would be a perfect fit. Brandon Hernandez and Irma Aguilar-Coker, deans of Health Sciences and Nursing respectively, couldn't have agreed more.
This was the club's eighth time to host such an event and Duelm's third time to take part. "You (the sponsoring club) have to prove you're able to put on a good program," she said. "We have members with different professional connections who can arrange presentations. All week long there's program after program, so hopefully they'll get a good exposure to the U.S. healthcare system.
But it's much more than organizing tours. "We also need people to host the delegates in their homes," she said, "so I host two delegates in my house every time we do it, which is really fun and a good experience for my kids to meet people from other parts of the world."
The day began with breakfast burritos and greetings from Trinity River President Sean Madison and the respective deans, after which the tour set out for the Surgical Technology lab. Coordinator Jeffrey Leonard was on hand to describe what students were busy doing and talk about the program, not neglecting to mention his students' stellar record on certification exams and in landing jobs.
Next up was Diagnostic Medical Sonography where Coordinator Jackie Bennett emphasized how students are taught how to interact with patients, explaining step-by-step what is happening during a procedure. Delegate Szuscik-Zieba was particularly interested in this aspect and asked numerous questions. Indeed, so many questions were asked during the tour that the deans were hard put to stick to the schedule.
The group then moved on to the Nuclear Medicine lab where Instructor Tonya Pigulski showed off her new baby – a scintillation or "gamma" camera (price tag $250,000) that can be used to track and analyze images of the human body or to pinpoint cancers from gamma rays emitted from radioactive materials introduced into the body.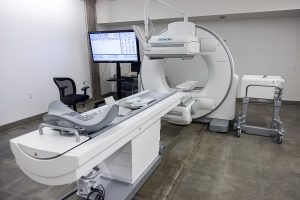 The Physical Therapist Assistant program then had its turn, and Holly Dickson was asked if many of her graduates eventually earn the advanced university degrees necessary to become Registered Physical Therapists. Dickson said that while some do, many prefer the hands-on patient treatment done by PTAs as opposed to the mainly administrative duties of the registered therapist and at a vastly lower investment in time and money.
Another technological marvel was on view next as Brian Spence of Radiological Technology (most often known simply as x-ray) demonstrated the Anatomage Table, a fully segmented human 3D anatomy platform by which a body or body part can be examined layer by layer, enabling students to learn correct patient positioning.
Lastly it was nursing's turn. Instructor Tanya Rose grilled a group of students as to which medications they might give a patient-based information on vital signs and complaint. She had taken pains to tell the visitors that these students were not yet ready for such an exercise, but she needn't have worried. They aced the quiz.
The tour ended in Nursing's simulation hospital where several patients were on view, from a woman in labor to a victim of some obviously serious mishap. The group had a laugh when instructor Johanna Rosser displayed a mannequin so anatomically correct that the switching of a couple of key parts could make a he into a she.
There was just enough time remaining for a team photo and some off-the-cuff reactions. "I'm really impressed," said Andrezej Szczepanik, coordinator of a blood disease donor matching program, "You have plenty of programs and a really good staff with good equipment. The best thing for me was that the students can learn by doing, not just lectures. The teachers are really open and they're full of energy."
"The delegation seemed very enthusiastic and interested in the manner by which TCC trains its students in Health Sciences," Hernandez said. "More specifically, each visitor was able to witness a variety of lab spaces and the updated technologies that our students engage with on a daily basis."