Texas Two-Step program fights nursing shortage, rewards employees with paid education
A year ago, 27-year-old Sunflower Blanton was dreaming of a better future as a nurse, as her late grandmother had once suggested. "My grandma said, 'You have a natural caring ability,'" Blanton recalls.
In May, the aspirations of both women became a proud reality as Blanton became a graduate of the Medical City Healthcare Texas Two-Step Nursing Program.
The Texas Two-Step Nursing Program enables current Medical City Healthcare colleagues to earn an associate's degree in nursing. Colleagues must meet admission requirements. Once admitted, Medical City Healthcare pays for tuition, fees, books and uniforms in exchange for a two-year commitment to work full-time as a registered nurse within the North Texas health system.
"We are proud to invest in our Medical City Healthcare colleagues, helping to advance their careers while also filling vital RN positions in the midst of a nursing shortage," says Medical City Healthcare Chief Nursing Executive Zach Mueller, RN, DNP. "Nurses are at the core of the compassionate, connected care we provide to patients. Investing in the future of this respected profession is paramount to providing exceptional services to the communities we are honored to serve. "
The first step of the Texas Two-Step program is earning an associate degree. The second step is obtaining a bachelor of science in nursing. Any colleague from Medical City Healthcare's 16 North Texas hospitals, four off-campus emergency rooms, the CareNow urgent care network and 14 surgery centers can apply for the program. Previous graduates initially held jobs across the healthcare spectrum, including operators, cooks, imaging techs and other positions.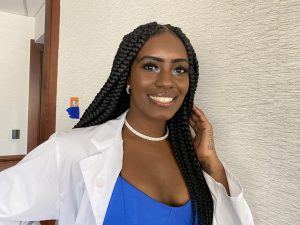 Blanton was a patient care tech at Medical City Las Colinas when she was accepted into the program. She grew up in poverty but says her grandmother encouraged her to overcome.
"I didn't think I was smart enough and I was insecure. My manager gave me a chance and believed in my success," says Blanton, who is now the first in her family with a college education. "I want to be an inspiration to those who think they can't become something due to poverty or mental health. Anything is possible if you dream big and never stop believing."
The program is provided through a partnership with Collin College and Tarrant County College. Since the first class graduated in May 2010, more than 400 nurses have been added to the Medical City Healthcare workforce. More than 90% percent of those nurses have stayed beyond the 2-year commitment. Twenty Medical City Healthcare colleagues graduated from the Texas Two-Step Program on May 18.