Members of TCC's first cohort of electrical line technician interns were among the slate of recent graduates at commencement in May.
As part of Oncor's Secondary Education Outreach Program (SEOP), cohort participants were selected from students with FWISD Collegiate High School and Wilmer-Hutchins High School, both of which partner with Oncor to learn about electrical safety and careers in the utility industry.
The cohort began in August 2021 with 14 students. Eight students completed the rigorous program.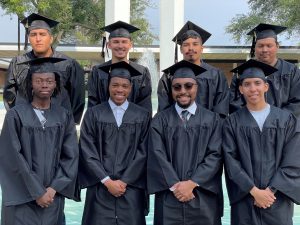 "The curriculum covers a wide range of topics that pertain specifically to the lineman trade," according to Gilbert McFadden, instructor/coordinator for the program. He says the most important part of the program is teaching the interns "how to climb a wood pole using the proper equipment to safely ascend to the top of the pole to complete construction and maintenance tasks." He credits all the interns for accomplishing the skill of climbing poles—a difficult skill to obtain.
McFadden says interest in the program is increasing. "Recruiting has begun for the fall semester internship, and (there is) an increased interest in the high school Dual Credit Program, which includes the Electrical Line Technician Program." He notes that Oncor is recruiting from the Dual Credit Program because those students who have graduated from high school also have an associate degree. Additionally, traditional students and veterans also attend with the interns.
Once selected for the program, which is Oncor's only program of its kind in Texas, interns are required to attend TCC's Electrical Line Technician Program with tuition, books, personal protective equipment (PPE) and other tools required covered by Oncor. Coursework includes 32 weeks in the classroom, Monday-Friday, 8 am to 4:30 pm. Additionally, interns are compensated for the hours they work, including attending classes. Compensation is evaluated annually and can vary.
Fabian Ramirez, one of the students in the cohort, said although he didn't know much about Oncor, he was drawn to working with the company by what they had to offer in the program, such as a paid internship, books and on-the-job training. "I think to myself that it really couldn't get much better than that." He credits Oncor as being safety conscious, hosting weekly meetings to alert them to hazards of the job and how to avoid them.
Ramirez also has high praise for TCC faculty, especially McFadden, who he describes as "the best teacher we could have gotten—a very knowledgeable man." He acknowledges McFadden's extensive experience with Oncor as helpful in learning about the company. Additionally, he said, "He wants the best for you!"
The internship lasts for approximately one year. In addition to classes, interns are required to participate in regular engagements with Oncor where they learn the company's policies, procedures and commitment to safety. This includes attendance at the company's service center for 12 weeks, during which time they are expected to qualify for a Commercial Driver's License (CDL).
Antonella Guadagno, Oncor HR business partner, says once the interns obtain their Electrical Line Technician certifications and successfully complete all other requirements established by this program, they become eligible for employment with Oncor as line workers, earning approximately $21/hour. She outlines a career path interns can follow at the company. "Interns would have limitations of what work they're able to perform within a lineman crew, but from there they'd be able to progress to different steps until eventually reaching a journeyman lineman position."
Ramirez says he would recommend this program to others. "Probably the best opportunity a young person coming straight out of high school could get."
Learn more about the Electrical Line Technician program at TCC.