In March 2020, TCC closed all physical campuses and transitioned to remote instruction due to the COVID-19 pandemic. While many disciplines were able to convert to 100 percent online delivery, some others were not.
"For aviation programs in general, we went out on Spring Break, then COVID hit and we had to push the pause button and regroup," recalls Clint Grant, dean of Aviation, Transportation and Logistics. "The thing that is important to know is we couldn't just jump online, we had to get permissions from the FAA because that would be a deviation from our curriculum."
According to Chad Weigand, department chair of the Professional Pilot Program located at the Erma C. Johnson Hadley Northwest Center of Excellence for Aviation, Transportation and Logistics (CEATL), they were able to receive permission to teach online relatively quickly. 
"We reached out to the FAA during Spring Break and were able to get classroom instruction up and running online by March 23," he says.
The Public Safety Training Center (PSTC), which contains TCC's Law Enforcement program, firing range and Fire/Rescue program, had some experience with online instruction having previously launched a virtual fire academy. According to Steve Keller, director of the Public Safety Training Center, "We had just cut our teeth on that first class with the online fire academy, so when we had to go online, it was seamless because the shells were already built. That was a huge advantage for us."
By June, after a few months of virtual instruction, and with careful coordination and planning among campus and college leadership, including TCC's Office of Safety and Emergency Management, programs at CEATL and the PSTC were able to resume in-person instruction for at least some of their courses. This of course came with new safety protocols designed to follow CDC guidelines, but in programs like Professional Pilot, Law Enforcement and Fire/Rescue, this was no easy task.
For students interested in courses like aviation and public safety, social distancing is not always possible. 
"When you're in a plane, you're sitting leg-to-leg with your instructor, and you're sharing all the air, so everyone wears a mask," says Michelle Frantik, coordinator of Flight Operations. Frantik also followed a strict safety protocol for communicating with students who had to cancel flights due to illness. The protocol involved a prescribed amount of days off before they could be cleared to fly again.
In the PSTC, the skills the students have to learn can also involve close contact. According to Keller, "On the Law Enforcement side, they have specific training and simulations that involve things like hand-to-hand combat where you just cannot distance."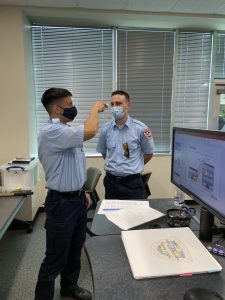 The same is true for the Fire/Rescue program. "Our students have to be proficient in more than 100 hands-on skills including things like raising and lowering ladders, which is done in a team environment," says Mark Reichert, an adjunct instructor in the Fire/Rescue program.
Reichert continues, "We have to add realistic training to serve the purpose of the PSTC, because the hazards of the job mean we need to put these students into situations where they develop the psychomotor skills and thought processes to practice and become proficient at their jobs."
This task was all together different for TCC Northwest's Horticulture program, where students need to be able to work with plants and soil so they can gain hands-on experience. Horticulture remained entirely online through Summer 2020, but was able to return to some in-person instruction in Fall 2020, with most courses adopting a hybrid format. 
"Our hybrid classes meet once or twice a week in-person for their lab activities and the rest is online," says David Bulpitt, Coordinator of the Horticulture program.
According to Bulpitt, they had an easier time implementing the social distancing guidelines than they might otherwise have because they were able to utilize classroom spaces that are usually occupied by other disciplines. 
"We would only have been able to accommodate eight students at a time in the Horticulture lab because the desks and benches are fixed," reports Bulpitt. By expanding into other rooms, with more flexile furniture and space, they were able to accommodate larger groups.
This extra space turned out to be very necessary as enrollment in Horticulture picked up quite a bit, exceeding Fall 2020 enrollment by more than 30 percent, an all-time record for student enrollments in Horticulture. Bulpitt attributes this to several factors including industry trends like the farm-to-table moment and the growing popularity of sustainable agriculture practices. Also, since the pandemic began, he has seen a renewed interest in beautifying homes with plants and flowers. 
David Cole, Learning Lab manager and adjunct instructor in the Horticulture program, also has a theory about the increased enrollment they have seen. "I think with the pandemic, students are really enjoying the opportunity to be outside and work with their hands" says Cole.
As programs like Horticulture, as well as the programs offered via the PSTC and CEATL, begin to think about TCC's plan to return to full in-person instruction in Fall 2021, they also are considering what they have learned from this experience. Flexibility is definitely on their minds, particularly for students who are in need of an accommodation due to illness or life circumstances. "Where before, they would just call in that they couldn't make it, now they can log in from home and stay up-to-date with their class. This prevents these students from getting behind" says Darrell Rutledge, Coordinator of Fire Services.
At CEATL, they have discovered some new processes that they want to keep using, including a new solution for students to book appointments with instructors. "Before, we handled this over email and there was a lot of back and forth because of availability,"  Weigand says. "With Microsoft's Bookings feature, which is built into our suite of tools we already have access to, it's far simpler for students to make appointments with our faculty now."
In Horticulture, Cole has taken this opportunity to experiment with his teaching. This semester, he worked with his students to design together what their final exam will be. "I'm trying to give students some ownership over the final exam and so we had a discussion, they threw out some ideas, and we all agreed on a format. They're going to engage in a skill share with each other. It's going to take place over a few class days and will include things like classroom presentations, lab demonstrations and real life case studies of students' home or work landscape projects."
There is also a real sense of appreciation for the folks who have worked behind the scenes to keep these programs running and provide an opportunity for students to complete their programs. "I was thrilled how many students were able to complete their flight training over the summer," says Frantik. "We had a few students who didn't return in the fall, because of the financial fallout of the pandemic, but we had more come back than I expected and we have kept moving ever since. Our team came in and gave it everything they had and worked really hard to make sure the program and the students succeeded."
TCC is currently planning to return to in-person instruction in Fall 2021.