As healthcare executives and journalists continue to sound the alarm about the pending nursing shortage in the U.S., Tarrant County College Trinity River and Medical City Healthcare have finalized a partnership that will address this workforce crisis.
Under the Texas 2-Step Nursing Pathway program, Medical City Healthcare will pay for current employees, both full-and part-time, to earn an Associate of Applied Science in Nursing through Tarrant County College, one of the leading providers of credentialed nurses in the region. An employee's tuition, fees, books and uniforms will be paid for by Medical City Healthcare in exchange for a two-year commitment to work full time as a Registered Nurse (RN).
The first step of the Texas 2-Step Nursing Pathway program is earning the associate degree. The second step is obtaining the Bachelor of Science in Nursing. Ultimately, Medical City Healthcare's investment in its own employees should help the organization add more skilled RNs to its workforce.
"This collaboration with TCC is an extension of our mission to the care and improvement of human life," says Zach Mueller, DNP, RN, Medical City Healthcare chief nursing executive. "Medical City Healthcare colleagues have the opportunity to realize a lifelong dream of becoming a registered nurse, hospitals fill open positions with quality nursing staff that provide compassionate care to our patients, all while the college fulfills its own mission to education."
Beginning January 2020, TCC will accept its first cohort of eight students. Medical City Healthcare will provide 12 instructors for four clinical courses being offered at their facilities. TCC is expected to provide instructors to teach a series of theory courses at TCC Trinity River Campus East.
"The collaboration with Medical City Healthcare is important to Tarrant County College's Nursing Program because it strengthens our clinical relationships, demonstrates our desire to meet workforce needs and increases our graduates' employment opportunities in the Medical City Healthcare system," said Tetsuya Umebayashi, dean of nursing at TCC Trinity River East Campus. "This partnership helps our graduates to have job placement security upon successful completion of the program and passing the NCLEX-RN exam."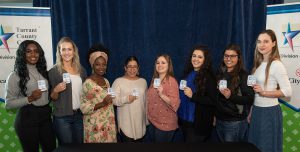 Medical City Healthcare agreed to expand the Texas 2-Step Pathway program to include TCC after originally launching with El Centro College and later expanding to Collin College. Medical City Healthcare launched the 2-Step Nursing Pathway program more than 10 years ago at one of its North Texas hospitals, paying for employees, both full-and part-time, to go to nursing school for free. The goal is for the program is to help address the shortage of skilled nurses to fill critical positions throughout the hospital system.
According to the Bureau of Labor Statistics, nursing is one of the nation's fastest growing professions. By the year 2030, more than 98,000 RNs will be needed in North Texas by 2030; however, the projected supply is going to be short by nearly 16,000. Nationally, nearly a third of the nurses in the U.S, approximately 1 million, are expected to reach retirement age in the next 10 to 15 years.
To learn more about TCC's Allied Health programs, visit: https://www.tccd.edu/locations/trinity-river-campus/trinity-river-campus-east/