Tarrant County College Trinity River President S. Sean Madison, Ed.D. is one of 40 educators recently named to the 2019-2020 class of the Aspen Presidential Fellowship for College Excellence. Beginning July 2019, Madison and his cohort of Aspen Presidential Fellows will participate in a 10-month leadership program aimed at preparing the next generation of community college presidents to transform institutions to achieve higher and more equitable levels of student success, both in college and in the labor market.
"Evidence shows that substantial improvements in student success are achieved only when presidents have the commitment and skill needed to lead change within their institutions and through partnerships in the community," said Josh Wyner, executive director of the Aspen Institute's College Excellence Program. "These fellows have been chosen because they embody that commitment and, we believe, will build their skills even further to become transformational presidents."
There is a growing need for a new generation of leaders well-equipped to held future challenges in higher education. Nearly 80 percent of community college presidents in the U.S. are expected to retire in the next 10 years, according to the Aspen Institute. The pathway to replace them has traditionally excluded women and people of color. Currently, 64 percent of sitting community college presidents are male and 71 percent are white. The Aspen Institute's 2019-2020 class is 65 percent female, 43 percent are people of color and their institutions vary in size and location.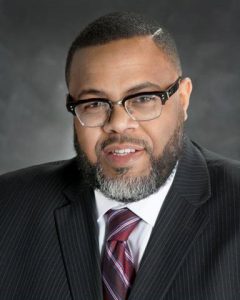 Madison earned his bachelor's degree in Literature and English from Morehouse College, a historically black college in Atlanta. His graduate degrees include a master's degree in Teaching and English from Boston University and a doctorate in Higher Education Administration from Florida International University.
The Aspen Presidential Fellowship for Community College Excellence is supported by the Charles and Lynn Schusterman Family Foundation, College Futures Foundation, Greater Texas Foundation, JP Morgan Chase Foundation, Joyce Foundation, Kresge Foundation and Andrew W. Mellon Foundation.