Brenda Padilla, an adjunct instructor in the Massage Therapy Program, earned the President's Award from the Texas Chapter American Massage Therapy Association (AMTA).  The President's Award is given to a person who has demonstrated the highest level of dedication, devotion and willingness to serve the AMTA at their chapter level.
John Lundberg was a guest speaker at Trail Lake Nursing Home. He was invited to speak on Black History Month as a part of the information forums that the facility offers to the residents.  The History Department plans to make other presentations in the future as dates become available.
Lee Snaples and the History Department hosted a symposium titled "History and Today:  Immigration, Nativism and Conflict." Featured speaker was David Shi, president emeritus and professor of History at Furman University in Greenville, SC.  A panel discussion on the history of immigration in the United States consisted of Jennifer Heth, Paul Johnson, Snaples and John Lundberg. Following Shi's presentation, another panel examined the current policies on immigration, nativism and conflict.  Panel presenters were Madelyn Bowman, Tatyana Kisin, Charles Overstreet and Carlos Rovelo. Approximately 400 students, staff and faculty attended this symposium.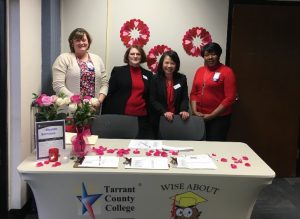 The Health Services Department and the Health and Wellness Council hosted their annual "Love Your Heart" luncheon for students, faculty and staff. Fahmi Farah, this year's keynote speaker at the American Heart Association "Go Red" event for women's heart disease, presented on the various forms of heart disease, signs and symptoms. Baylor Scott and White's staff also provided information on heart health.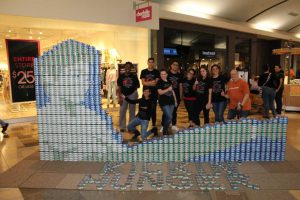 Students in the Architectural Technology Program won 1st place the Best Use of Labels category in the Fort Worth City Canstruction® competition in October 2018.  This charity art exhibit is sponsored locally by the Fort Worth chapter of the American Institute of Architects.Their entry, "Kickin' Hunger," was judged one of the top five best structures in the category. In January 2019, Canstruction® headquarters in Atlanta announced that Architectural Technology's entry "Kickin' Hunger" won third place in the International competition, competing against nearly 1000 teams around the world. The structures were made entirely with full cans of food.  After the competition, the canned goods were donated to local hunger relief organizations such as Tarrant Area Food Bank.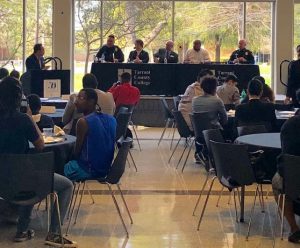 The first Unity Summit in March concentrated on the three fundamental societal pillars: community, education, and law and order; and the notion that if there is clear communication and trust between the different components of this triumvirate, then our society will be uplifted as a whole. This summit was the result of the collaboration of students Barry Smith, Chance McCarty Jr. and Terrance Cooper with the TCC South Police Department and members of the faculty and staff.
A panel discussion, moderated by Evan Anderson, Weekend Morning Anchor for NBC 5, featured Fort Worth Police Department Duty Chief Neil Noakes, Arlington Police Department Assistant Chief Jaime Ayala, Tarrant County District Attorney Sharen Wilson, Odyssey, Inc. Founder Kevin Brigance, Future Teachers of America's Jeffrey Herr and the Unity Summit Co-Founder and TCC South student Terrance Cooper.
The evening featured a conversation that was both riveting and insightful, with respectful discourse – a testament to the importance of not just listening, but to the possibility of a better future if we take the initiative, and make it so.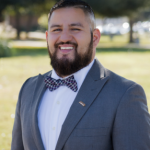 Jonathan Perez, coordinator of the Intercultural Student Engagement and Academic Success Network, was selected as a member of The Fort Worth Business Press 40 under 40. This award recognizes 40 successful young professionals under 40 years of age who have collaborated to make a difference in their industries and communities. They are leaders today and are sure to be part of the next generation that will make Tarrant County a great place to live and work.
The Jenkins Garrett Library collaborated with the South Campus English Department, Sigma Kappa Delta Honor Society and Student Activities to host the 30th Annual National African American Read-In. The Read-In was developed on the premise that a college and community reading event is an effective way to encourage diversity in literature, inspire young people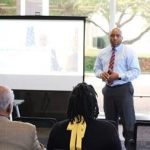 to read and shine a spotlight on African American authors. The event featured retired U.S. Army Lt. Colonel Antwan C. Williams, who has 27 years of experience leading public affairs, public relations, communication, and human resources organizations. Williams, adjunct instructor and manager of Communications, Community Outreach, Admissions and Recruiting for the UTA School of Social Work, presented "African Americans in Times of War".  The event also featured Brenda Sanders-Wise, executive director of Tarrant County Black Historical and Genealogical Society.
Candice Richardson presented a workshop, "Power of Positive Thinking," to all TCC students. The workshop focused on creating awareness that changing the way a student thinks improves his/her daily life.
Each Friday during February, counselor Andrew Hill presented content during the Foundations Spring Cohort. Foundations is an intensive training course provided by the Office of Equity and Inclusion for faculty and staff to learn how to create more inclusive spaces. Hill also presented a workshop, "Emotions," in March to all TCC students. This workshop allowed students to discover helpful ways to identify, regulate and express emotions.
The TCC South Upward Bound program celebrated the success of its students from the following high schools:
South Hills High School – J. Mendez (TCU Community Scholars Finalist-$260,000) and M. Wilson – (TAFE National Qualifier)
Everman High School: J. Esperanza- received $24,895 in scholarships and grants for Texas A&M; K. Jefferson- accepted into Tarleton State University; M. Martinez-accepted into the University of North Texas; and E. Moreno- accepted into University of Texas at Arlington and St. Mary's University.