September 2018
Tarrant County College Northwest partnered with Community Link, Northwest YMCA and the Effie Center to host the Back2School Bash  Aug. 11 to help families in need—in the kitchen and in the classroom.  The Back2School Bash and Community Food Market were held at TCC Northwest and served the Castleberry ISD, Lake Worth ISD and Eagle Mountain-Saginaw ISD communities.  This was also the one-year anniversary of the Northwest Campus' Community Food Market, a monthly farmer's market-style mobile food pantry.
As part of the Back-to-School Bash, students received backpacks, school supplies, haircuts, eye screenings and glasses, books and medical and dental checkups.  More than 4,000 people attended the event, where volunteers distributed 2,400 backpacks, provided 700 dental and 395 vision screenings and gave 225 haircuts.  The event was completed with the help of more than 650 volunteers from TCC and various community partners.
Student Activities hosted Northwest Fest on Aug. 29 to give students an opportunity to sign up for clubs and campus services.  In-N-Out Burger donated more than 900 hamburger lunches to students, faculty and staff.  Additionally, other grab-and-go food options were available for those in a hurry. In total, more than 1,100 students were served lunch at the event. Clubs received nearly 700 interested student members and reported high levels of sign-ups. Campus services marketed their services to the crowd with Advising and Counseling, Success Coaches, the Testing Center, Student Accessibility Resources and the Transfer and Veterans Centers participating in the event, among others.
The North Texas Business Aviation Association (NTBAA) awarded $2,000 scholarships to TCC Maintenance Students Samantha Chopp and Tom Thomas for the 2018-2019 academic year. NTBAA's mission statement includes providing "a forum to network, educate, mentor, share best practices, and represent the interests of the business aviation industry." As a partner to aviation schools, one way NTBAA helps future colleagues is to award scholarships to local education institutions. The TCC Aviation Maintenance Technology department thanks them for their partnership and for supporting our TCC Students. Pictured are Phillip Craig, TCC aviation faculty; students Tom Thomas and Samantha Chopp and Dean of Aviation, Business, and Logistics Clint Grant.
TCC Northwest welcomed two students, Alejandra Villarreal and Javier Camarillo, from Cristo Rey Fort Worth High School. Cristo Rey empowers high school students from underserved low-income communities to develop their minds and hearts to become lifelong contributors to society.  The organization seeks to transform urban America by providing students with a college preparatory education and a unique four-year, integrated corporate work study experience. Alejandra and Javier will spend one day each week on the NW campus working in the President's Office, the Intercultural Network office and the Student Activities Office. Dr. Kirsten Cooper, Dr. Joe Rode, Dr. Vesta Martinez and Alex Vargas are leading this effort.
ACE Camp was held June 11 through June 15 at the Center for Excellence in Aviation, Transportation and Logistics.  It was a fun, interactive aviation summer camp geared toward students who are interested in aviation and aerospace. The goal was to give students awareness of aviation history, different career opportunities within aviation, preparation and planning a flight, the physics of flight, as well as the design and maintenance of aircraft. Participants used flight simulators and went on field trips to observe various aspects of aviation careers at local aviation industries and airports. Participants ended the experiences with a flight in an airplane with the US Aviation Academy. The cost of ACE Camp is $350 per student.
The Logistics and Supply Chain Management Department continued to manage the College Credit for Heroes grant in partnership with the Texas Workforce Commission. Veterans may receive course credit based on an evaluation of the student's military experience. The accelerated course schedule enables participants to complete two Certificates of Completion (in Warehouse Management and Transportation Management) in six months. Students can continue their studies and complete the Associate of Applied Science in Logistics and Supply Chain Management. Eligible students can use their VA and/or Hazlewood Act benefits, and textbooks are provided as part of this grant.
At the end of the spring semester, 15 veterans had entered the program. An additional nine joined during the summer and are enrolled in fall courses. Six have earned both certificates of completion. We anticipate at least four will earn the CRTs at the end of the fall semester.
On Aug. 3, the Criminal Justice Training Center, under the direction of Dr. William Griffith, held a graduation ceremony for its 188th graduating class.
On Aug. 13, 2018 the Fire Service Training Center, under the direction of Steve Keller, held a graduation ceremony for its 86th graduating class.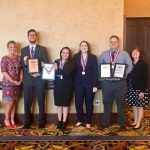 Five students from the Northwest chapter of Business Professionals of America competed at the Business Professionals of America National Leadership Conference in Grapevine.  The students competed against other students from community colleges and universities across the nation.
Rachel Wood – 6th place, Fundamental Word Processing and 9th place, Management, Marketing, and Human Resources
Conner Burt – 2nd place, College Accounting and 2nd place, Financial Math and Analysis
Christian Anglin – 2nd place, Managerial Accounting
Kristina Gebel – 1st place, Presentation Management
Micayla Martinez – 6th place, Interview Skills
Advisors: Jaye Simpson & Julie Russell
On Sept. 12, the TCC Northwest Veterans Success Center hosted a Military Career Fair where military branch recruiters came to the campus to provide information about scholarships and career opportunities in the United States Military upon degree completion. 
Drs. Laura Matysek Wood and Jason Clark-Miller travelled to Boston with 20 students as part of the 2018 Landmarks of Social Memory Travel Study.  The program combined HIST 1302 and SOCI 1301 classes and used public spaces of memory to teach critical thinking skills to students.  Among the many stops on the trip, students walked the Freedom Trail, toured the USS Constitution, walked the historic site of the first shots of the American Revolution in Lexington, and toured Harvard University.  The highlight of the trip was the opportunity to sit down with Dr. Margaret Burnham, university distinguished professor of law and director, Civil Rights and Restorative Justice Project to discuss memorialization as part of restorative justice.  The students learned about the lynching of an African-American man in Fort Worth in the 1920s prior to the trip and discussed with Dr. Burnham how they might help this event be remembered in Fort Worth.
On Sept. 11, 12 and 13, Tarrant County College Fire Service Training Center, in association with BNSF Railroad, hosted a 24-hour Hazardous Materials response refresher training at the Northwest Campus. This course provides unique insights into tank car valves and repair, damage assessment and best management practices in railroad emergencies. The course is designed to give railroad emergency response crews and hazardous materials technicians the experience needed to safely respond to and work in today's complex world of hazmat rail emergencies.  This event was attended by 36 personnel representing railroad emergency personnel.
On Sept. 8 and 22, in conjunction with the Bell Fort Worth Alliance Airshow, the Center of Excellence for Aviation, Transportation and Logistics was the host site for the Boy Scouts of America Circle Ten (Dallas) Council and Longhorn Council (Fort Worth) Merit Badge Event. Alliance Air Productions coordinated the event and CEATL staff gave tours of the facility as part of the day. Each scout was required to complete a series of activities including completion of the Merit Badge workbook, participation in a preflight inspection of a light aircraft, building a foam plate glider and visiting a control tower.  Scouts planned to complete their badges after attending the Bell Fort Worth Alliance Air Show Oct. 13-14. Director of Workforce Programs Demesia Razo, and Administrative Assistant Hans Reeves, provided tours of the facility and were able to talk to the Scouts about the Aviation Maintenance and Professional Pilot Programs. CEATL was glad to be part of supporting our community and helping to nurture the future of aviation.
 On September 22, the North Texas Chapter of Women in Aviation International (WAI) hosted the fourth annual Girls in Aviation Day at the Frontiers of Flight Museum in Dallas. Girls in Aviation is a free program for girls ages 8 to 18, designed to introduce them to the possibilities available in a career in aviation. The TCC Professional Pilot Program was on site to talk to girls about our program and what it is like to learn to fly. Students Alina Elliott, Cayce Cleary, Tera Pennock and Yuno Niwano were wonderful representatives of the program, answering many questions and sharing their experiences with the girls participating in the day. Department Chair Chad Weigand and Director of Workforce Programs Demesia Razo were on site as well, to answer questions and interact with families. Attendees at the event had the opportunity to talk to women in various fields of aviation and aerospace, including pilots, engineers, air traffic controllers, airport managers, business owners and more. They also participated in hands-on activities, such as flight simulators, build-a-helicopter, aviation phonetics, a scavenger hunt through the Frontiers of Flight museum and more. TCC was proud to be part of this exciting day for girls dreaming of setting flight in an aviation career.
On June 27, July 3, July 12, July 17 and August 14, the Visual and Performing Arts staff provided interactive workshops for elementary school aged students at the Aventine Apartments Daycare in Fort Worth. The kids had an amazing time making clay pinch pots with Raul Montalvo, Instructional Associate in Visual Arts. Dalton McGill, instructional aide, held a jam session with the kids. He brought in several instruments for them to try. Erica Freeman, instructional aide, taught the kids how to personalize their letters by showing them how to decorate envelopes. Undra Semple, outreach coordinator, had the honor of working with an energetic and entertaining group of young women who will set the world on fire with their dance moves. They talked about performance quality and how to tell a story through dance. After one practice, the girls came back ready to perform in full costume.
November 2018
Students from area junior high schools participated in the Bell Helicopter Mission Possible STEM event Oct. 12 at the Erma J. Hadley Center for Excellence for Aviation Transportation and Logistics (CEATL). Students toured CEATL and saw the avionics, composites and other aviation maintenance labs. Students were also able to see the flight simulators, paint booth and maintenance hangar. The group returned to the conference room to hear about the importance of STEM and overview of the day's competition. After lunch, student teams competed in events such as building the tallest possible helipad that would withstand high-speed, straight-line winds and meet pre-determined budget requirements. This event was hosted in conjunction with the Bell Fort Worth Alliance Air Show. TCC staff were on hand to assist with tours and activities. We were proud to be able to show these students the possibilities in aviation careers while also teaching concepts related to aviation. 
Mark Loud, instructor, aviation maintenance technology and Bell Fort Worth Alliance Airshow committee coordinator assembled a team of faculty, staff and students to make the 2018 airshow a success for TCC Aviation. The team showcased TCC's excellence in aviation flight and technical training.
TCC Aviation had a great showing with outstanding volunteer support from our student body.  We could not have done it without them.  Our participation in the Discovery Zone STEM tent, in collaboration with the Fort Worth Aviation Museum and Executive Director Jim Hodgson, was a huge success.  Despite the rain, 7,000 patrons came through the tent and participated in our activities with circuit boards, precision measurements, and the retro U Fly It aircraft which were a big hit.  TCC's relationship with the Fort Worth Aviation Museum is just another example of how collaboration within the community yields the benefits of aviation awareness and education. 
As for faculty and staff, our performance at the air show this year was the best it has ever been.  This was a massive team effort, not only to pull off logistics like assembling volunteers, erecting tents, and arranging for golf carts, but also to provide meaningful content for participants like the U Fly It STEM activity and the circuit design STEM project.  Our Aviation faculty, staff, and students set the example others to emulate. 
In October, CEATL hosted the Longhorn Council of Boy Scouts for a workshop that allowed attending scouts to earn their Composite Materials merit badge. Scouts learned what composite materials are and how they are made.  In addition, TCC instructor Jason Ramos worked with the scouts to create a hiking stick in our lab space. There were approximately 50 Boy Scouts in attendance. Bell Helicopter Engineer Tony Bergerson helped organize the event to expose participants to this field.
In October TCC Northwest hosted the First Annual Counselor Symposium. The symposium was well-attended, with 30 high school counselors, middle school counselors, principals and representatives from TCC. The symposium aimed to cultivate stronger partnerships with area ISD counselors by sharing information about TCC Northwest programs and culture. Additionally, a keynote was presented by Thomas Sosa, who spoke on the symposium's theme of "Partnering in the Ecosystem of Education."
The Veterans Success Center hosted a Texas Lawyers for Texas Veterans Legal Clinic in October. Fifteen attorneys provided pro bono legal services to 37 veterans and spouses of deceased veterans. To coincide with the Legal Clinic, Career Services hosted a Veterans Job Fair in and collaborated with Workforce Solutions for Tarrant County and Texas Veterans Commission to bring vendors that are actively hiring veterans.