Kathryn Wilbanks knows a thing or two about working through pain. The Tarrant County College student was diagnosed with a chronic debilitating illness in high school.
"It made school hard, but I still graduated a few months early," said Wilbanks.
Unfortunately, that commitment to fighting through her illness did not work in college. As a freshman, Wilbanks was forced to withdraw. Instead of setting her back, though, the time away from school set her up for success.
"By taking a year off to focus on my health, I learned how to manage and make time for my illness," she said.
Wilbanks returned to school in fall 2015, enrolling at TCC Trinity River. She adopted a new approach, equally prioritizing her education and her health. Wilbanks thrived at TCC, working toward her undergraduate degree in physics. Success in her chosen field, however, meant overcoming another challenge.
"In high school, I really disliked algebra and higher-level math," said Wilbanks. "I could never understand how everything worked and why. But as I started to figure out what I wanted to do in college and found my passion for physics, I came to the realization that I would need math to progress."
Wilbanks became laser-focused on her goal and began reteaching herself math fundamentals.
"In doing so, I learned that math doesn't just have to be rote memorization," recalled Wilbanks. "In learning why certain formulas are used and the theorems behind them, I began to enjoy working on mathematics."
She also discovered a talent for breaking down complicated material and helping others learn. Wilbanks' chemistry instructor, Audra Lugo, saw her potential and recommended that she become a Supplemental Instruction (SI) leader. The program uses students who have performed well in traditionally difficult courses to lead peer-assisted study sessions. SI leaders attend the class they support, hold group study opportunities and serve as an instructional resource for their fellow students.
"I was thrilled to find out she would be returning to my classroom as a Supplemental Instruction leader," said Lugo. "Our students benefited greatly from Kathryn's patient, knowledgeable, wise and creative advice and instruction. Whether a student or SI leader, Kathryn always made the classroom atmosphere more positive and grounded."
In addition to excelling in the classroom, Wilbanks stood out on campus. She joined the Student Government Association and took a job in TCC Trinity River's Idea Store, which serves as the campus' student center.
"Kathryn has the ability to step outside her comfort zone, and it has led to her success," said Eddie Brassart, assistant director of student development services for TCC Trinity River. "She began by simply approaching student activities staff to learn how to become involved on campus. From the moment she became a student leader, she was hired as a student employee and developed a strong support network of faculty, staff and fellow students."
Her success at TCC has opened the door for new opportunities. Lugo recommended that Wilbanks apply for an elite undergraduate research fellowship at Texas A&M University-Commerce. She was one of just 10 students selected for the summer program, a 10-week, paid chemistry research experience.
"Her ability to think critically and her passion for science make her an ideal researcher," noted Lugo.
Wilbanks, now a student at the University of Texas at Arlington, is pursuing her bachelor's degree in general physics. She plans to earn a doctorate and pursue a career teaching and conducting research. She still works every day to balance her health and studies.
"It means I can't do everything I want, but I keep myself healthy and progressing toward graduation," said Wilbanks.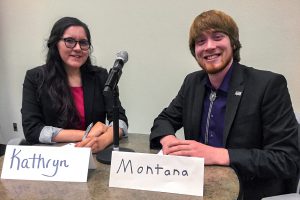 She counsels other students who struggle with illness to focus on their health first.
"Once you feel comfortable putting in the hours for a class or two, take something you enjoy," she said. "Always use resources on campus. There are so many great resources and administration, faculty and programs that are there to help and want to see you succeed just as much as you do."
Wilbanks makes a conscious choice to focus on what she can do instead of any limitations imposed by her illness.
"Her persistence in being joyful each day and bringing joy to others is a decision," said Lugo. "I know she is inspiring many, including me, to make that decision each day as well."
Hear her firsthand account of overcoming obstacles.
This story is the latest in the What's stopping you? series, celebrating members of the TCC community who don't let challenges get in their way.