TCC's fifth year of participating in NC3 National Signing Day resulted in more than 200 students from TCC Northwest and TCC South as well as Crowley ISD and Fort Worth ISD signing letters of commitment to purse a technical education at TCC.
The presidents of both TCC campuses involved in the event stressed the importance of this pledge.
"Our country is currently experiencing a skills gap between what employers are looking for and the skills our current workforce has," said TCC Northwest President Zarina Blankenbaker. "Skills trade jobs continue to merge at the top of the list of jobs employers are having difficulty filling. We also know that nearly two-thirds of jobs require a post-secondary education. This pledge by students to commit to a career and technical education is an investment in themselves, their families and their communities."
TCC South President Dan Lufkin said, "This is great for our students. When our students sign an NC3 letter and commit to a technical career path, they are demonstrating tremendous commitment to their own success. This commitment to earning a degree or certificate in a high-demand job that pays well is not only a win for students but a win for our local businesses and economy."
Marisa Galaviz, community education & engagement coordinator and lead for the NC3 event at TCC Northwest says the event emphasizes "TCC's commitment to recognize students as their journey begins to accomplish their selected career technical program. The support and recognition students receive at this event highlights the importance of their career choices and commitment to learn the skills necessary to be workforce ready upon completing their program."
Kate Smith, who coordinates the event at TCC South, considers the event as a celebration for their students. "We want to recognize all our students that are pledging to complete a CTE program or certificate. These students are choosing pathways that support our local industries, and here at Tarrant County College, we want to let them know that we support them," she said. "We are very excited and cannot wait to see what they do in the future."
Likewise, the students were excited. Allayna Brown, who plans to pursue a certificate in the Engine Analysis Technician program, chose the program to take care of her own vehicle as well as help others. "What participating in this event means to me is a long-term goal and contract towards my future career in the automotive industry," she said.
Aidan Setmire, a dual-credit student at V.R. Eaton High School, wants to student Aviation Maintenance Technology. "The CTE program has helped me tremendously in my pursuit of an aviation maintenance career at Tarrant County College," he said.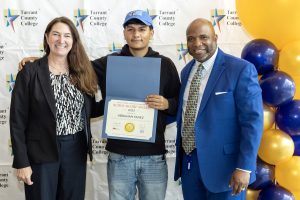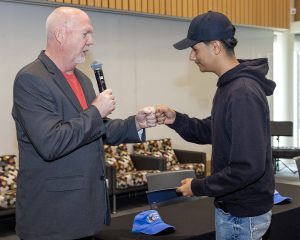 One student, Abraham Yanez, has an extra reason to stick with the Automotive Technology Program – a $1,000 scholarship from the 3M Corporation that was announced at the TCC South ceremony. He was nominated by instructor Willard Brinson, who saw great potential in his student but also heard through the grapevine that financing his education could be a problem.
"He didn't come up to me and say he had a problem or anything like that," Brinson said. "But he's going to be a good technician, so I didn't want him to end up having to drop out because of finances."
Yanez was shocked at the amount of his scholarship. When he learned he had won, he thought he might only get $200 to $300, only to later find the award was $1,000.
There is no denying that lives are changed through the event. Consider Ashley Futral Young, who plans to study Criminal Justice starting this fall. "The NC3 event really did mean a lot to me," she said. "I'm going in this alone, and for the first time during this process, I felt like I had an extended family that had my back at the beginning stage. This stage is important to me! The NC3 event showed me how important we, as students, are to you guys. For that, I thank you."