At the beginning of December, TCC's Sign Language Interpreting Program hosted Signing Santa, an event which brings joy to Deaf and Hard of Hearing children in the Metroplex each year.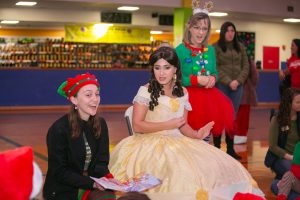 "Signing Santa is what I call 'The Most Wonderful Day of the Year,'" said Sign Language Interpreting Program Director Sammie Sheppard. "Our program has been hosting this event for Deaf and Hard of Hearing children in the DFW area since the 1980s," she said. "It is a fantastic opportunity for our ASL and Interpreting students to apply the linguistic skills and cultural knowledge they have been learning in the classroom in a way that gives back to the children of the Deaf community."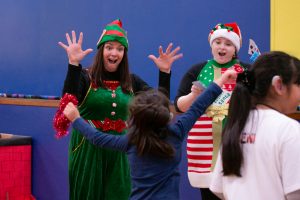 More than 80 TCC students signed up to participate in the event.  Seven faculty members, four staff members and two student workers also participated.  Two of the Sign Language Interpreting Program instructional assistants served as Santa and Mrs. Clause. Both are Deaf.
"This was my first year being the Signing Santa and what a blast it was!" said Sid Johnson. "I honestly think it means so much on a tremendous scale to these precious children. The sight of just seeing them light up at the sight of signing, feeling a sense of belonging and just having a great time there just melts my heart!"
Johnson considered the experience wonderful and "an important one for both Deaf and hearing alike." The value, he said, is "giving the hearing audience the exposure to the Deaf culture and language and learning more about it as they participate in it. And for the Deaf, it gives them equal access to communication via sign language in all the booths provided by the event."
This year's event was STEM focused. "Santa's Snowtastic Science Emporium" included booths and activities created by TCC's ASL and Interpreting students. Participants were able to learn about the Northern Lights, the NOAA Weather Tracker (and Santa Tracker), Prisms and Light Refraction, Magnets, How Icicles are Formed and Why Snow Melts. Additionally, STEM-focused crafts and games were available for the children.
This year's attendees included 200 Deaf/Hard of Hearing children, 65 teachers and 42 parents.  Resources were provided to parents of the children.  "We had two interpreting interns who also speak Spanish and were able to work with our parents who speak Spanish," said Sheppard.
Holly Cates, who supervises the Regional Day School Program for the Deaf with Irving ISD, is one of the educators who brought children to the event and has for several years.  "Signing Santa is an event that our Deaf Education students look forward to every year," she said. "It's a place where they have fun and a place where they meet and befriend other Deaf and Hard of Hearing students from across DFW. It's a place where Santa understands what they are saying and knows what to get them for Christmas!  The excitement in their eyes when they arrive and the smiles they have on their faces when they leave lets me know that Signing Santa is a special place where they are understood and loved!"
Sign Language Interpretation – Tarrant County College (tccd.edu)