Get ready to get schooled on August 5th Tarrant County! The 17th annual Tarrant County Back to School Roundup is taking place, from 8am-2pm, at the Tarrant County
College South, located at 5301 Campus Drive in Fort Worth. This year's event will have new look in a festive environment while receiving social services and supplies. You must be pre-registered to attend this year's Roundup. Event online pre-registration is taking place through July 15. There will be an in-person registration event on Wednesday, July 13 at ESC Region 11 located at 1451 S. Cherry Lane, White Settlement, TX 76108. The pre-registration event will run from 3:30 P.M. – 6:00 P.M. For details, call 2-1-1 or visit backtoschoolroundup.org.
This annual event is instrumental in preparing Tarrant County children for a successful school year and is presented by Tarrant County Community College South Campus and the Sid Richardson Foundation. Roundup is a one-stop shop to prepare children for their school. The event is free and open to income
eligible families who reside in Tarrant County.
County Judge Glen Whitley and Fort Worth Mayor Mattie Parker have encouraged everyone to support the effort, whether through volunteering, sponsoring, or donating money. Funded entirely by private donations and in-kind contributions, Roundup is a collaborative effort between Tarrant County and its 20 school districts, its municipalities, public health department, state agencies, nonprofits, corporate sponsors and volunteers. An abundance of educational information, in English and Spanish, will be available, along with special services like haircuts and immunizations.
Acceptable qualifying documents are: Picture ID includes Texas state driver's license, state identification card, military identification card, foreign consulate-issued identification (i.e. Matricula Consular), school or employer work identification card, or church ID card. Tarrant County proof of residency includes May, June or July 2022 utility bill (electricity, water, phone or gas) showing applicant name and current address, or letter from landlord or apartment management company, on company letterhead, indicating proof of residency during May, June, or July 2022. Proof of Income may be verified using paycheck stubs from May, June or July 2022; a letter dated in May, June or July 2022 on agency or company letterhead from an employer, welfare office, caseworker, or Social Security Administration Office indicating annual income and signed by an agent of the company or agency (letter must include contact phone number for verification); or letter or card showing participation or enrollment in Medicaid, SNAP, unemployment, disability or school free lunch program. Documents used to show proof of qualification may be printed copies, electronic/email copies or photos shown from a phone.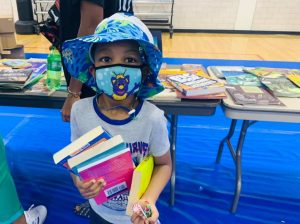 This will be the fourth year to collaborate with Tarrant County Community College South Campus. The event's major sponsor is Sid W. Richardson Foundation. Other sponsors are, 211 Texas United Way Canales Furniture, Renaissance Dental, North Central Texas Council of Governments – Transportation Department, Meta, Marina Dental , Trumpet Behavioral Health, Cooks Children's, Lone Star Dental and Braces, Amerigroup, City of Fort Worth Neighborhood Services, Cricket Wireless, Tarrant County Clerk's Office, FWISD – Family Communications, Essilor Vision Foundation, DentaQuest, Sun Com Mobile, Fort Worth Police Department, Atmos Energy, Fort Worth Rotary Club, Walmart, Texas A&M, UNT Health, Tarrant County College, Tarrant County Health, Yakult, 90.9 KCBI, 101.7FM Air1 Radio, and 97.9 THE BEAT.
Community partners are; Fort Worth ISD; Tarrant County Public Health; and United Way of Tarrant County/2-1-1. Media partners are Fox 4 and Fox 4 More, Univision 23, Unimas 49, KTVT KTXA-TV DALLASFORT WORTH, 97.9 The Beat, 90.0 KCBI, and 101.7FM Air 1 Radio.
For more information and to register for the Back to School Round Up, visit backtoschoolroundup.org or call 2-1-1.
Organizers kindly ask that all attendees that are not fully vaccinated wear a facemask.