Joe Bob Rushing, the West Texas farm boy who built Tarrant County College from the ground up as its first chancellor, died Dec. 8 at his home in Lampasas at the age of 100. A graveside service was held Dec. 11, and a memorial service is planned for a later date.
Rushing did not particularly want to come to the newly established Tarrant County Junior College in 1965. He had served five years as the founding president of Broward County Junior College in Fort Lauderdale, Fla., and, as he said in an interview years later, "was prepared to spend the rest of my life here … new house on the canal … the whole Florida bit."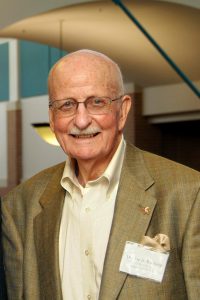 He politely declined the first interview invitation from Trustee John Finn, but relented the second time around when his wife, Elaine, was included. He met with the trustees deep into the night of Aug. 29 and was impressed by their zeal. "I realized that their dreams for the community college in Tarrant County were exactly the dreams I had for a community college," he said later, "and they were a group of people I wanted to work with."
Rushing accepted the position and began work on Nov. 1 starting with, to him, his most important task – building a staff. Among his greatest accomplishments, he once said, was "surrounding himself with smart people and letting them do their jobs."
One of the early hires was Don Newbury, the director of community relations, who later served as president at Western Texas College and Howard Payne University. "Unlike many leaders who place highest value of 'ivory tower status,' he was an open-collar, sleeves-up kind of leader who enjoyed immense trust and respect," Newbury said. "By any measure, he was the best boss I ever had.  The tenure during which he led TCJC was special indeed."
That tenure came to an end in 1989 after the creation of three campuses – South, Northeast and Northwest – with an enrollment of almost 30,000 students. When he announced his retirement, accolades poured in from friends and colleagues around the nation. "He's earned respect and recognition from virtually every sector of our society, placing his noted trademarks of competence and concern not only in academe, but also in the military, our community, and in public service," said Jim Wright, speaker of the U.S. House of Representatives. "Accordingly, his exemplary service has been recognized at the national, regional, and state levels – this, in addition to the praise he's received right there in our hometown."
Rushing's contributions were recognized by College and community. The new Performing Arts Center on TCC South was named for him, as was the street along the northern border of that campus.
Shortly before he announced his retirement, Judith Carrier, then vice president at TCC Northwest and later president at TCC Southeast, worked with her humanities dean, Tahita Fulkerson, to compile a book of Rushing's letters and speeches. The title, Exactly the Right Man, came from a quote in a letter from a comparative literature scholar at Princeton University who, on hearing that someone named Joe Bob was joining him on the board of the National Endowment for the Arts and Humanities, pictured a hulking football player. On meeting Rushing however, he acknowledged that he was "exactly the right man to lead an institution of higher education." Rushing, Carrier said on learning of his death, "was the best leader this College ever had and certainly the best person I ever worked for."
Education had always been paramount in Rushing's life. Raised on a Brown County farm by his parents and grandparents, he excelled in kindergarten to the point where he was allowed to skip first grade entirely. He planned to attend a business college after high school, but his church pastor saw his potential and convinced him to attend Howard Payne instead. World War II interrupted his college career, but he completed his bachelor's degree shortly afterward.
He began his career teaching high school chemistry but soon learned that "if anybody was making money [in education], it was the principal down the hall, where I certainly wasn't." He decided to go into school administration and, after earning a master's degree at East Texas State landed a principal's job in Ranger. While there, he taught chemistry at Ranger Junior College, saw the possibilities and enrolled in the junior college administration doctoral program at the University of Texas at Austin. After graduation, he went to Wharton Junior College as head of its adult education program and then back to Howard Payne as administrative vice president before taking on the presidency at Broward.
Among his many civic activities, Rushing was a member of the Fort Worth Rotary Club, which he served as president and also was a rotary district governor. He also was a member of the Board of Directors of Blue Cross/Blue Shield of Texas and was a trustee of the National Endowment for the Arts and Humanities, named to the post by President Gerald Ford.
Rushing is survived by his daughter, Sherron Kulwin of Phoenix, AZ, and a son, Dr. Scott Rushing, a veterinarian in Lampasas.  Preceding him in death were his wife, the former Elaine Whitis, in 2007 and a daughter, Cindy, in 2020. In lieu of flowers, the family is asking interested friends to consider gifts to the Joe and Elaine Rushing Scholarship Fund at TCC (foundation.info@tccd.edu or 817.515.5277).