The Latina STEM Fellowship builds skills, provides mentorship
Amy Trejo is among those studying COVID-19 with the hope of creating a healthier, safer world. She is undertaking that research as a Tarrant County College graduate and undergraduate student at Texas A&M University. Using science to help change the world represents the fulfillment of Trejo's lifelong aspirations.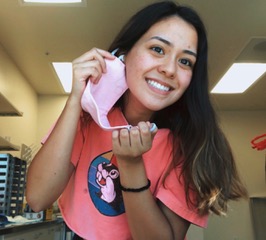 "Something about the unknown and being able to discover something has always pulled me towards STEM," reflects Trejo, who earned both her high school diploma and associate degree at Marine Creek Collegiate High School at TCC Northwest, respectively. "My mom mentions that I am living the dream I had for myself as a little girl, because I would always say I wanted to be a scientist."
But even though Trejo had the interest, she wasn't sure she had the means to reach her dream. "Never did I expect to be doing research at a Tier 1 research institute and contributing to something bigger than myself," she admits. "Even the fact that I am in college is something that, as a child, I didn't know I could achieve."
Trejo is a Latina and a first-generation American. Growing up, she didn't see many STEM—science, technology, engineering and math—professionals who looked like her. As a TCC student, when she was presented with the opportunity to join a recently developed program called the Latina STEM Fellowship, Trejo didn't hesitate to get involved.
"The aspect that interested me the most about the program was that it was led by two Latinas with PhDs — incredible and powerful women," Trejo remembers. "I saw in them what I wanted to see in myself, so I applied."
The "incredible and powerful women" Trejo references are professors Iris Duarte-Bazaldua and Sophia Garcia. They, along with Robert Munoz (then vice president of Continuing Education at TCC Trinity River), developed the fellowship based on Garcia's vision.
"I realized there was a need in our community to create a pipeline for young people who are interested in pursuing a STEM degree and career," shares Garcia, a founding faculty member of TCC Trinity River and the former department chair of Life Sciences. "After reading literature about the need to diversify the STEM workforce, I decided I wanted to create more than a summer camp, and more than a network. I wanted to create a fellowship of young women with the desire to study and work in a STEM field."
Garcia envisioned a comprehensive program that would inform Latinas about their education options, provide them experience in professional STEM environments, introduce them to preeminent experts in various fields and extend social-emotional support as well as guidance for families in helping their students achieve higher education success.
Munoz immediately went to work to secure grant funding, and the Latina STEM Fellowship was officially established in 2016. It began as a summer program before growing into a year-round learning experience.
The Latina STEM Fellowship is open to young women in high school or community college; they remain members in perpetuity, so Trejo and other students who go on to universities remain part of the fellowship. In addition to TCC students and those enrolled in TCC's early college high school programs, participants come from school districts across DFW, private schools and charter schools. The young women are interested in a broad range of STEM fields, from environmental science to engineering to medicine, math and computer science. And they're impacting the course of their lives and lives to come.
"Many of our students are first-generation college students," explains Garcia. "They will be the first in their families to attend university. While it is a great responsibility, it is also a great honor. They will change the trajectory for their future generations. Even for the few of our students who are not first-gen, many of them are first in their families to go into a STEM field, and they feel they need support in this regard. The Latina STEM Fellowship is here to support their journey."
Trejo was among the first participants—and the fellowship was nothing short of transformative for her. "The Latina STEM Fellowship changed my life," Trejo says. "It allowed my career and academic goals to be solidified in my mind and pushed me to create my own narrative and future. The program also gave me resources that I never knew were available to me."
Since TCC created the fellowship, it has been underwritten by a variety of donors, including Lockheed Martin. The company, which has a large presence in Fort Worth, began supporting the Latina STEM Fellowship in 2017 and most recently, made a charitable contribution that allows for year-round programming and a summer camp.
"Lockheed Martin recognizes the need for technical leadership in STEM fields in the coming years," says Liz Lutz, with Lockheed Martin's Aeronautics Community Relations. "We are committed to proactively building a pipeline of future talent and to investing in the needs of students, ideally years before they make post-secondary education or career decisions. Specifically, we're committed to building a diverse workforce and investing in students who come from underrepresented or underserved communities."
The corporation believes that investment is key to its ongoing success.
"Our customers rely on us every day to deliver game-changing technologies. We know the best way to develop these technologies is with a workforce that draws from a diverse set of backgrounds, experiences and skills," remarks Lutz, adding that the program also benefits Lockheed Martin's current employees. "Partnerships such as the Latina STEM Fellowship become mutually beneficial as the students' infectious enthusiasm to learn inspires and reminds many of our volunteers why they chose to pursue a career in STEM in the first place."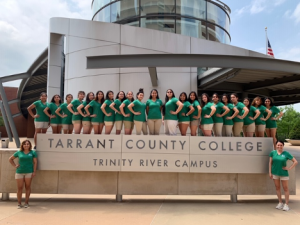 The fellowship, which typically includes up to 24 students in each cohort, centers on four pillars: skill building, career exploration, education planning and mentorship. Skill building is about equipping the participants with the knowledge and abilities that will make them competitive for STEM programs, internships and jobs—everything from lab techniques to presentation skills. The career exploration process makes the young women aware of the wide range of fields where they can use those skills: entomology, biomedical engineering, hydrology … the options are virtually endless.
The students explore their professional interests through a career assessment, then work with program staff to draw up an education plan, including the classes they'll need to take, tuition costs and research opportunities at specific universities.
Participants also have access to robust mentoring programs. Current STEM professionals—many of them Latina—give the young women advice and inspiration for the path forward. Tess Thoreson, a software engineer with Lockheed Martin Aeronautics, is one of the program's volunteers; she leads engineering and coding activities for participants and shares wisdom from her college years and career. Thoreson wishes there had been a similar program when she was a student.
"It's imperative that we empower young women to go into STEM fields by teaching them about how many opportunities they have and providing them with a supportive network," Thoreson explains. "These young women will fill important roles in the STEM workforce one day and bring different perspectives and experiences to the table."
Trejo greatly valued the mentorship she received from working professionals. "I loved being exposed to women who not only came from backgrounds similar to mine, but were also success stories, using their life experiences to take themselves even further."
Students like Trejo also provide a sense of mentorship to other participants. "There are peer mentors within each cohort," notes Garcia. "High school juniors and seniors will give advice to high school freshmen and sophomores. Girls who have been in the Latina STEM Fellowship longer befriend the newer members."
While Latina STEM Fellowship activities are currently virtual, in-person programming will resume as soon as the environment will allow. . The hands-on activities and field trips Trejo experienced made a strong impression. "My favorite part of the fellowship was a trip we took to A&M to visit the school and learn about some of the research being done on campus," says Trejo. "I knew I wanted to go on to college, but it never seemed accessible to me. After visiting A&M with the Latina STEM Fellowship and attending the fellowship's workshops on how to apply and find the right school for you, it pushed me that much more to continue on my educational journey."
In addition, participants' families are better prepared to support them on that journey. "We get to know the parents and encourage them as they support their daughters, granddaughters, nieces," says Garcia. "Our programming has included financial aid sessions for family members and 'What to Expect When You Are Expecting … Your Daughter to Go to College.'"
By all accounts, the young women are well-equipped to make a formidable impact in the STEM world.
"They're absolutely going to do great things," asserts Thoreson, the software engineer with Lockheed Martin Aeronautics. "Every time I've volunteered with them, I've been extremely impressed with the program and the participants. Everyone is excited and eager to learn. It's a lot of fun, which is why I have and will say yes to any volunteer opportunity with the fellowship that comes my way."
Trejo also is interested in continuing her involvement with the Latina STEM Fellowship, even after she enters the workforce. (Her goal is to become a neurosurgeon.) "I do want to give back and guide girls in the way I was guided," she says, giving much credit to the women behind TCC's program—who are both first-generation college graduates.
"Before I met Dr. Garcia and Dr. Duarte-Bazaldua, I always thought of STEM as being accessible only to white men," Trejo explains. "Through example, they taught me that being a female minority should not be a limitation but rather a motivator to go further and fight harder for what we deserve. While it's scary to not have representation, we are the trailblazers creating a path for those who come after us."
Interested in the Latina STEM Fellowship? Visit the program's webpage for more details. Applications for the next cohort become available in the spring.