"No."
For many, that's the end. Time to move on.
"No."
Hearing or seeing that two-letter word has derailed many.
"No."
To Quinn Minh Nguyen, that tiny word has a different meaning. It recharges him. Motivates him. Drives him to try even harder. He seeks to identify his deficiencies by talking with others, among other things. Once he has identified the challenges, Nguyen develops a plan to overcome them. Next, he spends every waking hour working as hard as he can to achieve his goals.
Nguyen arrived in Arlington from Vietnam as a 14-year-old sophomore in high school. He didn't know the city. He didn't know the language. But he did know he had a special relationship with his uncle. And, he did know his uncle would let him live with him, adopt him and help him achieve a better life.
His first focus was to learn to speak English. By his senior year at James Bowie High School, his ability to communicate in English had improved so much that Nguyen was confident enough to enroll in dual credit courses. This allowed him to fulfill his high school requirements while earning college credit for some of the same classes.
"It saves a lot of time and money. It (helped) me save like a year in college and probably (thousands of dollars) in tuition," Nguyen said.
Just like many of his classmates, he applied to four-year colleges. Although he was accepted to Texas A&M University, he said, "I got rejected to engineering school. With my reading skill still a bit low…, my SAT score (was) not that great."
That "no" caused Nguyen to make an assessment. "I (knew) that I was pretty good at TCC dual credit and the teaching quality (was) really good. I (understood) what (was) going on in the class. So that's why I (wanted) to prove myself there.  I never (gave) up. I also (wanted) to see how Texas A&M recruits students, so I (went) to the Transfer (Center with a question). "Is there any way that I can improve my academic background so that I can get better?"
Nguyen said Terrell Shaw, coordinator of the TCC Southeast Transfer Center, guided him through the process. He also set up an appointment for him with a Texas A&M recruiter. Nguyen, now a 2019 Texas A&M graduate, also earned an A&M scholarship.
"TCC (has) enormous opportunities to join organizations and to be a leader in this organization. TCC is a really good place to start. The professors are really nice. They help guide you step-by-step. So many high school students, they don't realize that it's a big change from high school to college. TCC is the middle stone that can help (them) go step-by-step without falling apart," Nguyen said.
Nguyen said his college experience helped him achieve what he wanted. "It's not about a school, it's about the trip and the spirit that you take into the school. So, I joined a school, and I wanted to see what TCC (had) to offer."
He began a quest that eventually led him to one of his most important decisions. "So, I (walked) around and (saw an)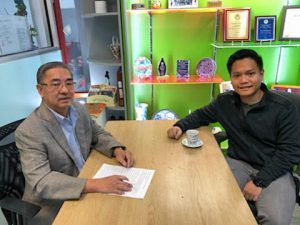 advertisement from Phi Theta Kappa (PTK, the international honor society for two-year colleges). I saw this was a really great opportunity."  He met with the club sponsor who told him about the qualifications, the opportunities to hone his leadership skills and the potential to earn scholarships.
"Quinn is kind of amazing because he's a great communicator. I mean, English is a second language, but that has never, ever held him back from being very expressive and being a terrific communicator," said Jerry Coats, Ph.D., dean of Liberal Arts and PTK advisor. "He wants to be engaged, he wants to learn. He's that student that, as a teacher, I love to have in my classroom because he never lets the easy answers go. He always had questions and he always wanted to know more."
Nguyen particularly was intrigued by the organization's projects because he believed participation in them could help him improve his academic background and his résumé, improving his chances for admission into the School of Engineering.
Completing two major projects is important for PTK chapters seeking to earn a five-star chapter rating, one that the TCC Southeast chapter has maintained for a decade and a half. "Quinn's year, we decided to take a look at renewable energy forms. The group hit on wind energy. So, we bought a couple of commercial turbines just to see how they ran and what the output was," Coats said.
"We bought books on how to create paper, wind turbines, and we built them. We took them to local elementary and middle schools and talked about renewable energy to our community in that way. Quinn was right in the middle of all of that. He helped us complete the project and helped us in the write-ups that allowed us to win international recognition that year."
Quinn recalled his first PTK meeting.
"It was memorable because everyone in there, it was funny, they talk funny like me, too. That's why I really (felt) assimilated. I (wanted) to join (to) be a part of Phi Theta Kappa (but wanted to be) more than a member," he recalled.  "I decided to go into organizing activities with the officers, (with the) Honors in Actions and the College Project. I was involved in helping them, helping (with whatever) they needed."
When the chapter began preparing for regional elections, Nguyen prepared a speech to compete. "I went to my first interview.  Everything (went) really fine until the last minute. So, one of the advisors, asked me, 'You look so nervous speaking in front of only 12 people, how will you manage to speak in front of 400 people?'"
"At the time, I was really nervous." (I said,) "If you give me a chance, I'll practice it for assembly. I can practice speaking during meetings, helping me (boost) my confidence in front of public," he said. Additionally, he took advantage of the opportunity to speak whenever he could in front of groups. Coats recalled that Quinn practiced the speech at least 50 times. "I also (received) help (with) my speaking skills (from) Dr. Coats. He (helped) me a lot with how to speak in front of (the) public, how (to use) hand gestures, how to speak certain words (in the) correct way and how to look people in the eyes in public speaking. So, I was really grateful to him for that."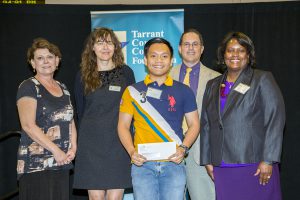 While at TCC, Nguyen also competed in the Jim Bolen Math Competition. He said (he) was drawn to the competition because it was similar to his high school UIL competitions.  "I got really excited about that. I remember I came to the competition in high school and (won) some rewards." He not only joined, but became president. "I organized people to come and help me help everyone with improving (their) math skills, so they (could) be prepared for the competition. As a result, I (won) a second place in all District TCC and TCC Southeast (students placed) eight out (of the) 10 people in the top 10 for the math competition."
"I first met Quinn when he came to the Division of Math and Sciences office. He's literally the first student (who) had so many (advanced placement) courses that we couldn't accept them all," said Thomas Awtry, dean of Mathematics, Science and Health and Physical Education Division at TCC Southeast and Bolen competition advisor. "TCC was a great first step for Quinn and for other students like him as they transition to the four-year institutions. We're able to provide a very good foundation, and we're able to provide instances where they can develop those critical thinking and problem-solving skills.
"We do so at a level that the four-year institutions are not able to do so because we have smaller class sizes. The students can develop relationships with teachers that possibly they can't at a four-year institution in a freshman or sophomore class where there's a few hundred students," said Awtry. "(At TCC,) they're in a class that has 25 students or 35 or 40 students. It allows them to ask more questions in class and develop that bond with that teacher. We do our job very well in helping with those transitional phases."
When he first tried to connect with his new employer, Amazon, Nguyen was not selected for an internship during his junior year. In typical Nguyen fashion, he did some research, including talking to a fellow student who was selected. Taking his fellow student's tips to heart, Nguyen later was able to walk away with his current full time job. He started in Seattle in March and has been working from home amidst the current COVID-19 pandemic.
Nguyen first considered being a doctor so he could heal people. He said he soon "realized that biology (and) memorizing (were) not for me. I'm more (an) analytical person. I don't try to remember things. I try to solve things…problems (in) my own creative ways."
"I (looked) at the engineer positions and what I (saw) in common (were the apps,) websites and computers everywhere in every engineering field (and) even (in the) medical field. So, doctors cannot do anything without technology," Nguyen said. "I feel like software engineering is a top growing field right now in the United States. It helps us everywhere from (the) medical field to business to banking, to even school. It helps us simulate physics so students can understand physics more.
"That's what I like about it. There are so many opportunities in software engineering. I want to be a part of it. I want to be a coder so that I can make changes to the world."
Learn more about Nguyen's journey at TCC: