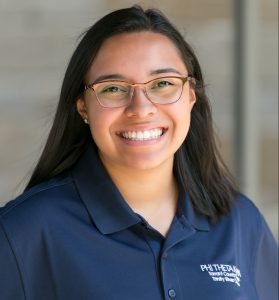 TCC Trinity River wants to share stories from and about our students. One in particular, Dezirae Rodriguez, serves as president of the Campus Student Government Association (SGA). Her position is credited to an employee who identified her skills and saw potential where she did not. We hope this student's insight reminds faculty and staff to strive to make success within reach for each and every student.  A small push of encouragement can go a long way in shaping the people of our future.
Recently, Dezirae took time from her busy schedule to share a slice of her life in a quick question and answer session. Her responses are candid and introspective.
Q: Which fictional character do you resonate with?
A: Amy Santiago from "Brooklyn Nine-Nine." Amy is a very Type A personality who likes organization, structure, and rules. She has a competitive nature and seeks to accomplish her goals. I like that the character is funny but strong-willed.
Q: What motto do you live by?
A: The first time I saw Talladega Nights, I knew this was fitting for me: "If you're not first, you're last." And that's totally me, it always has been; I was the kid who had soccer practice at 6 a.m., but would wake up my parents two hours early to go to the field and practice before anyone else.
Q: What first made you realize that you were capable of being a leader?
A: When I was young, I was offered a spot as the captain of my soccer team, which I fully embraced…captain of a kid's soccer team may seem like a silly thing now, but back then, as a young kid, it was a big deal.
Q: Were you involved in any other leadership roles prior to SGA?
A: Although I definitely peaked in the leadership department in college, I was the captain of my childhood and high school soccer team, the president of my school's National Honor Society, and I also worked my way up the ranks in my high school's JROTC program.
Q: What made you choose SGA?
A: I have to credit it to one unknown woman in particular… My first year at TCC, I worked in the president's administrative suite, and I always saw the same woman at the same time of day, always carrying a car seat around with her. One day, I asked why she carried that with her, and she told me she was a single mother with a son that she had to take with her to class, but they didn't have a car. She would have to Uber to school and work and home, and bring the car seat with her. I saw just how much she had to handle, and how I didn't have nearly as many responsibilities as she did, and asked how TCC could help her. So I took her situation to supervisors to see if we could get her assistance. One in particular asked why I wasn't a part of SGA, where I could tackle matters like this, and help out the student body. … That's when I knew I could have a platform to really make a difference here.
Q: What is the biggest challenge/reward you've experienced so far after being a student leader?
A: The biggest challenge was also kind of my biggest reward… I've always been the type to go up to bat for anyone in conflict, but I never held myself to the same standard. If someone hurt me or treated me poorly, I would never say anything, and that changed when I became the president of SGA. The biggest challenge was dealing with conflict in a respectful and calm manner, but the reward came directly from the challenge, because now I can stand up for myself in a mature way.
Q: Best advice for faculty and staff?
A: Get more involved! Some faculty and staff really go the extra mile to try and be there for the students that go to TCC and that makes lasting relationships and memories, which I think is something that every employee of TCC should try to do.
Q: What legacy would you like to leave behind at TCC?
A: Break the stereotype of being a community college student. We all know what reputation community college has, but TCC is a great example of how unrealistic those stereotypes are. Get involved, care about the work you do, make relationships with the people around you, and leave your own mark.
Q: What do you think are some useful personality traits for people in SGA to have?
A: Humility and humor. Humility because it's important to remember that seats on SGA do not put you above other students or grant you more privilege. Humor because SGA can be serious at times, and keeping things lighthearted is a great way for people to loosen up. And both of those qualities make you more relatable and approachable, which I think is important to be in SGA.
Q: What advice do you have for students who want to get into SGA but don't think they are a leader?
A: As my former soccer coach once told me, "I can take a player who has heart and make them into an incredible athlete, but I can't work with a player with only skill and no heart." That applies to SGA, too. If you have the skills to be a leader but don't actually care, that means nothing. If you want it and you're willing to learn, we can do it together. You don't have to be the most outspoken person ever, you just have to care.
Q: What is the silliest thing people have said about you as a first impression?
A: Apparently I'm super intimidating, which I don't see or think about myself at all.
Q: What is something people don't know about you?
A: I'm an extreme couponer. The best deal I ever got was $600+ groceries for $200.
Q: What three people would you invite to your fantasy dinner party?
A: Sojourner Truth, Chinua Achebe, and Malala Yousafzai. They are three women who are just unapologetically themselves, and stand up for themselves and for what they believe in, which is something I've struggled with in the past. But these women help remind me that I can change that.
Dezirae Rodriguez's determination to succeed is evident in her academic endeavors. In high school, she moved to Crowley and remained a student at Mansfield Legacy High School, graduating Summa Cum Laude. Still in Crowley, Dezirae bypasses other institutions and commutes to Trinity River Campus to fulfill the next phase of her college goals. She earned TCC's Associate of Arts degree in 2019, and is now working on an Associate of Arts in Sign Language Interpreting. She will graduate with her second TCC degree in spring 2021. Future plans include earning the Bachelor and Master level degrees in Speech Pathology/Communication Disorders.
While carrying a full course load and working two part-time jobs, Dezirae maintains a GPA worthy of membership in Phi Theta Kappa Honor Society. She volunteers for service projects in several organizations: Student Government Association, Phi Theta Kappa, and Sign Language Interpreting. In 2019, Dezirae was honored at the annual campus TRACE (Trinity River Awards Celebrating Excellence) awards banquet for students and staff and received the Emerging Leader Award.
When you cross paths with Dezirae, know that your vote of confidence in her abilities and encouragement to persevere in her goals have contributed to shaping the person she is today.