Underscoring its commitment to serve the community, Tarrant County College Trinity River will host the 5th annual Fab Now Makerspace Conference on Friday, February 15 and Saturday, February 16 to celebrate innovation through hands-on tech, do-it-yourself projects, STEM activities, crafts and much more.
Hundreds of educators, entrepreneurs, artists and students are expected to visit the downtown Fort Worth campus to share information about the global Maker Movement, an evolution that's changing people's perceptions about education, relationships with technology and the world overall. Whether it is robotics, traditional crafts or product design, the Fab Now Makerspace conference will empower people to invent the future.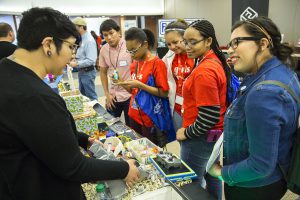 A competitive App-A-Thon featuring TCC students designing, developing and completing mobile applications is expected to be one of the conference highlights. Organizers expect the Maker EXPO to be a huge hit as well, with visitors creating, tinkering and exploring at various "maker stations" set up inside the expo.
Free and open to the general public, this two-day conference will be held in the Trinity River Cafe (First Floor) and Action Suites (Fourth Floor) at TCC Trinity River, 300 Trinity Campus Circle. Lunch will be provided.
Visit tccd.edu/fabnow to register for the event or additional details. Professional Development Units (PDUs) will be offered to all attendees.
The Fab Now Conference strategically aligns with TCC's Learning Commons Principle, which is designed to foster greater student engagement by meeting student needs in dynamic and flexible environments. To learn more about TCC's three Goals and eight Principles, visit tccd.edu/collegegoals.