Tricia Barker, one of the founding faculty members of the Trinity River campus, teaches English courses, moonlights as an author and can now add "television talk show guest" to her résumé as well. Barker's book and television appearances are connected to her incredible life's journey, starting with a dramatic near-death experience.
After a major car accident in her early 20s, Barker lay on the operating table for spinal surgery. She had lost too much blood from internal injuries and her heart rate flat-lined.
"I was dead for two and a half minutes," said Barker.
"I saw these angels that were fantastic," she remembered. "They were like nine feet tall, just amazing and they were working through the surgeons. Sending this energy through their backs and into my physical body. And they told me it would be fine."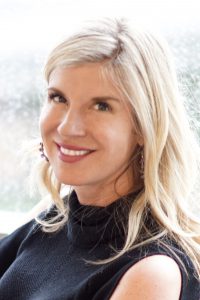 Barker described her spirit leaving the operating room and meeting God in heaven.
"And there I was told I was going to be a teacher," she recalled.
Afterwards, Barker spent almost a year learning to walk again. She then graduated from college and became an English and writing teacher.
"If you experience traumatic things in life, you should use it for the benefit of this world," said Barker, discussing how she encourages students. "Make yourself the hero of your story."
Barker enjoys connecting with students and has shared her near-death experience with many of them.
"It's been a joy, working with students," she said. "Talking with them intimately about death, grief, dying and that love never dies… we live in fear of it but we don't have to."
Barker also has recounted her story in notable interviews and television appearances. Her afterlife experience has been featured on A&E's I Survived: Beyond and Back and covered by National Geographic. These interviews inspired Barker to write her book, "Angels in the OR: What Dying Taught Me About Healing, Survival, and Transformation."
Barker has built a platform online between these one-on-one interviews and through blogging and social media. The Dr. Oz Show producers found Barker through Facebook and reached out to her in January. Within a week of the first contact, she flew to New York to film a segment on near-death experiences.
"The production of the whole thing and the live audience was interesting," Barker revealed. "I didn't realize how many cameras and lights there would be!"
So, what's next for Barker? She is currently working on two more book ideas and had this advice to share to her fellow teachers and writers — be courageous in self-expression.
"If you have a good idea for a book, don't give up on it," Barker stated. "It took me years, it will take time."
Barker's interview on The Dr. Oz Show will air February 15, 2019.
Her book, "Angels in the OR: What Dying Taught Me About Healing, Survival, and Transformation," is available for pre-order at Barnes and Noble, Amazon and other outlets.