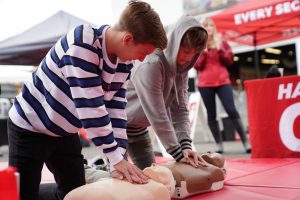 Do you know the two simple steps of Hands-Only CPR? Now is your opportunity to learn this crucial skill. The American Heart Association, the world's leading voluntary health organization dedicated to building healthier lives, free of cardiovascular diseases and stroke, and Amerigroup Foundation are teaming up to train the public in Hands-Only CPR during a mobile tour that will stop from 10 a.m. to 2:30 p.m. on Oct.8, 2018 in Parking Lot 2 at Tarrant County College – South campus, 5301 Campus Drive. The Hands-Only CPR training is free.
During the tour stop, the first 250 participants will receive a free Hands-Only CPR Anytime Training Kit that they can take home to extend this lifesaving skill to family members and friends. The event will have a Q&A session for a chance to win prizes. Additional giveaways include branded tote bags and branded t-shirts. To pre-register for a training session, visit https://handsonlycpr.cvent.com/2018_Mobile_Tour. Training sessions that are 30 minutes long will be held at 10 a.m., 11 a.m., noon, 1 p.m. and 2 p.m.
Texas is among five states where the tour has stopped during its five-week trek. The goal is to train 250 people at the tour stop. Hands-Only CPR has two easy steps, performed in this order: when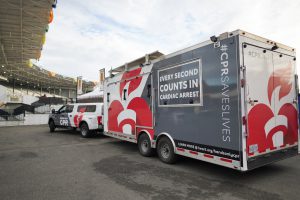 you see a teen or adult suddenly collapse, call 911; and then, push hard and fast in the center of the chest until help arrives.
Over 350,000 cardiac arrests occur outside of the hospital each year in the U.S. About 90 percent of people who suffer out-of-hospital cardiac arrests die, according to the Association. CPR, especially if performed immediately, can double or triple a person's chance of survival. Yet, less than half of out-of-hospital cardiac arrest victims receive CPR from a bystander.
During the tour stop, participants will learn Hands-Only CPR during interactive sessions set to music. Two emcees will lead 30-minute sessions in which they perform a song that is 100 to 120 beats per minutes – the rate you should push on the chest during CPR.
Music is a great learning tool in any situation, especially when training for an emergency. Research shows that people are more likely to remember the correct chest compression rate  when trained to the beat of a familiar song with 100 to 120 beats per minute, according to a study published in the Journal of Emergency Medicine.
"The Amerigroup Foundation is empowering communities to become actively engaged in their health and wellness through initiatives such as bringing the American Heart Association's Hands-Only CPR tour to Texas," said Tisch Scott, President, Amerigroup Texas. "The education this tour provides helps instill a level of comfort and confidence to perform CPR, which can mean the difference between life and death."
In addition to the training sessions, the tour will feature the following:
AED Learning Lab: This interactive station shows users how to properly use an automated external defibrillator, or AED.
Mobile Kiosk Learning Lab: This instructional station will provide an opportunity to learn Hands-Only CPR on a high fidelity manikin, or rubber torso, that is connected to a touch screen laptop. Participants can practice Hands-Only CPR on the manikin and do a test session that will generate a score and provide real-time feedback on their training.
Social Media Stations:  Visitors can post about their training experience and share information about Hands-Only CPR via social media stations.
The other states where the Mobile Tour has visited are Washington, California, Nevada, and Arizona. To learn more about the Hands-Only CPR campaign and get ready to save a life, visit heart.org/handsonlycpr or facebook.com/AHACPR.
To learn more or get involved, call 800-AHA-USA1 (242-8721) or visit heart.org.
Media should contact Marissa Alanis at marissa.alanis@heart.org or 214-706-1538.