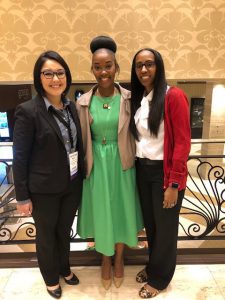 Selected for her commitment to equal and equitable higher education, Tarrant County College Northeast Vice President for Student Development Services Mayra Olivares-Urueta, Ph.D., has officially joined this year's "40 Under 40" class of the American Association for Women in Community Colleges (AAWCC).
All 40 honorees were recognized during the AAWCC 2018 Awards Breakfast, held April 29 in Dallas as part of the American Association of Community Colleges national conference. The award recognizes outstanding female leaders under the age of 40 who are making a difference in community colleges.
"When I received the notification of the award I had to do a triple take, I could not believe it," said Olivares-Urueta. "This award is a testament to the fact that not all watchful eyes are looking at you to see when you will fall. There are folks with loving and watchful eyes seeking ways to empower, champion and support each other. I do this work because I want a better future for my babies and our communities, and it's an honor to have my passion acknowledged and applauded."
Known for her caring spirit, Olivares-Urueta was nominated by Tahita Fulkerson, Ph.D., former president of TCC Trinity River, and Tara Firmin, coordinator of academic support services at TCC Trinity River.
"I can verify that Dr. Olivares-Urueta deserves this important award," said Fulkerson. "When she was the director of student development services at TCC Trinity River, she led with creativity and energy. The New Student Orientations were well-planned and were executed so well that student evaluations were impressively high. She wanted students to start right–with a great orientation–and to end with graduation or completion of personal goals."
Olivares-Urueta earned a doctorate in Higher Education from the University of North Texas and has a Bachelor of Arts in Spanish, Bachelor of Arts in International Studies and a Master of Human Relations from the University of Oklahoma. Colleagues understand that she brings a high level of expertise to her position, which benefits students throughout the College.
"Mayra is a voice for underrepresented students with a heart for social justice," said Firmin. "She engages in tough conversations while providing a non-judgmental environment to talk about topics that can be uncomfortable for people. She is an active member on the district Safe Space committee and serves as an advocate for African-American, Latino and LGBT students."
AAWCC is the leading national organization committed to creating equity and excellence in education and employment at community colleges, according to the organization's website. As a council of the American Association of Community Colleges, AAWCC champions women and maximizes their potential.