The Judith J. Carrier Library at Southeast Campus was pleased to host a beautiful traveling exhibit from the National Library of Medicine this fall. "Native Voices: Native Peoples' Concepts of Health and Illness" was displayed in the Library Reference Room for six weeks, beginning August 21, 2017. The Native Voices traveling exhibition examines the concepts of health and wellness among contemporary American Indians, Alaskan Natives and Native Hawaiians and travels from library to library across the country.
Honoring the native tradition of oral history, the exhibition features personal stories from native people across the country. The exhibit consisted of six panels, each six feet tall. Each panel has print information and also includes an iPad with headphones, so visitors can experience the first-hand accounts of native peoples' experiences with health and illness and how their cultural approach varied from traditional western medicine.
While the exhibit was here, Assistant Library Director Tracey Minzenmayer also arranged three programs to support the Native Voices exhibit. To honor the respect of wildlife among Native Americans, the first program was Erich Neupert, the executive director of the Blackland Prairie Raptor Center, on September 5. Neupert discussed raptors' adaptations to hunt and exist in North Texas' woodlands, wetlands and prairies.
Neupert explained raptors play important roles in controlling populations of unwanted creatures in North Texas homes, such as mice and roaches, contributing to the health of the people of North Texas.
Then, Lisa Barnett, Ph.D., Texas Christian University, lectured at TCC's Carrier Library about the issues associated with the controversial use of peyote as a part of American Indian religious ceremonies (during the late 19th and early 20th centuries). Barnett's speech was co-sponsored by the TCC Southeast Campus Department of Behavioral and Social Sciences, the Department of History, the Judith J. Carrier Library and the "Native Voices" exhibition.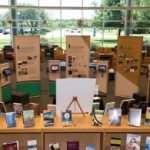 Lastly, the Carrier Library sponsored a discussion of a documentary about the formerly common placement of Native American children in foster care. The discussion was moderated by Ruthann Geer, TCC instructor of government and Sharon Wettengel, TCC assistant professor of sociology. The film, Reclaiming Our Children, tells the story of the passage of the Indian Child Welfare Act in 1978. Native American children were placed in foster care at a significantly higher rate than other US demographic groups. Reclaiming Our Children examines the impact of the Indian Child Welfare Act, the child welfare system and the laws, policies and attitudes that impact Native families.
The Judith J. Carrier Library is grateful to the National Library of Medicine for providing the exhibit and to all the speakers who helped make this a meaningful learning experience for students.