Professor of History and Government and Kennedale Mayor Brian Johnson has been named chairperson of the Tarrant Regional Transportation Coalition. His two-year term begins October 1, 2017 and extends through September of 2019. He replaces Jungus Jordan of the City of Fort Worth. Johnson has served as the Southeast Region representative to the TRTC Executive Committee since 2010.
Mayor Johnson was heard to say, "I am grateful for the opportunity to serve Tarrant County and the City of Kennedale and look forward to working with the TRTC to improve regional mobility in support of a growing population and economic development."
The Tarrant Regional Transportation Coalition's "goal is to spur conversation amongst friends, neighbors, business colleagues, local leaders and state government officials about our region's urgent mobility needs – roadways, commuter rail and freight rail." TRTC is a non-profit organization composed of local leaders who hold monthly informational meetings and engage in legislative advocacy and public education efforts to address the transportation and mobility of "the western half of the Metroplex." TRTC welcomes community input. Additional information, including meeting dates/times, is available at trtcmobility.org.
On Friday, September 15, 2017, Lee Snaples led a training session for Full Time and Adjunct Instructors. Jennifer Heth presented on two resource rich teaching websites that faculty can use to enhance their classroom experience.  Then WW Norton publishing representative David Tatom and technology expert Vic deBouchel gave faculty a guided tour of online resources provided by Norton to support our current textbook, Shi and Tindal:  America, A Narrative History. Attending this session was Lindsey Light, Paul Johnson, Jennifer Heth, Tom Reed, Ashley Umphenour, Bill Stowe, David Schultz, and Lee Snaples.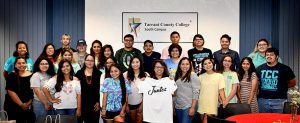 On August 31, JUNTOS (Together) en el Camino, a Latino Cultural Learning Community, hosted their first luncheon at South Campus with 45 participants (29 students and 16 staff/guests).  The luncheon was an opportunity for faculty and student success professionals to connect with this new cohort of students as they build their community of support. The JUNTOS team is comprised of South Campus staff passionate about serving the Latino community: Adriana Macias, success coach; Anamaria Olivares, academic advisor; Armando Villarreal III,  associate professor of U.S. History; Christopher Tovar, academic advisor; Jessica Tran, CTE success coach; Jonathan Perez, academic advisor; Marcela Contreras, financial aid specialist; and Rosemarie R. Hammon, assistant director of advising and counseling. The Latino Cultural Learning Community is a first-year-experience program designed to deepen and expand the teaching of Mexican-American/Latino history and culture across the disciplines at TCC South. This program was championed by the First-Time-In-College Center.
On Sept. 11, Cholho Kim, music instructor, and the TCC Fine Arts Department hosted a music concert featuring guest performers Vicky Hyunjin Lee, DMA, violinist, and Jiha Choi, pianist. Lee and Choi performed musical works by Edvard Grieg, Maurice Ravel, Witold Lutoslawski and Sergei Prokofiev.
The TCC South Fine Arts Department hosted an art exhibit that featured the work of Erin Stafford, a local artist and adjunct faculty member at TCC Trinity River Campus. The art show was titled, "The Withdrawing Room."
Jeremy Byrd, professor of philosophy and chair of education, economics and philosophy recently received notice that his work on "Moral Responsibility and Omissions" is cited by D. K. Nelkin in a new publication, The Ethics and Law of Omissions.  The volume explores the principles that govern moral responsibility and legal liability for omissive conduct.  Many of the book's contributors try to make sense of the possibility of moral responsibility for omissions, including those that occur unwittingly.
Joshua Goode, chair of the Art Department, participated in a group art exhibition titled Good Mourning Tis of Thee. The exhibit hosted more than 65 artists from around the U.S. The show was an interactive exhibit and featured themes associated with grief, loss, death, architecture and urban development. The artwork was on display from October 13 thru November 2, 2017. The opening reception was held October 13, 2017 at Austin, Texas.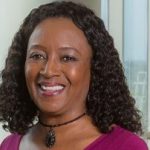 Sharron Crear, director of TRIO Programs, was invited to serve on the Education Reach Texans Leadership Board. This organization seeks to eliminate barriers to success and build support programs for alumni of foster care attending public colleges and universities in Texas. The group is one of many organizations across the nation seeking to improve the success of former foster youth in postsecondary education.
Rick Stitzel, music instructor, along with three South Campus jazz ensembles, performed big band jazz, ranging from classic to contemporary, at TCC South Campus' 50th birthday celebration, Family Extravaganza, on September 30.  The SSTU patio was the stage for this free music concert for all attendees.
Kiera Amison, South Campus dance instructor, conducted a dance concert in celebration of the first 50 years of TCC South Campus. The performance was held on September 30 on the SPAC mainstage and was free to all attendees.
The TCC South Campus Theater program performed a play titled South Campus: The First 50 Years. Lindy Benton-Muller, theater instructor and the students of her theater practicum course created and produced the play. The performances were held on September 28 to September 30. This play was about TCC South's first 50 years as seen from the students' perspective.
South Campus student Padam Bishwakarma received the scholarship given annually by Abrazando al Exito (Embracing Success) at the group's banquet at Northwest Campus. The scholarship consisted of funding for a three semester hour course. Applicants were asked to create a two-minute video showcasing their culture and upload it to YouTube. Bishwakarma chose to show The Teej Festival Cultural Dance from her native Nepal. Her video is on view at https://www.youtube.com/watch?v=swmPudjKjzA.