Four TCC Northeast students placed high in the annual Netriders Skills Competition sponsored by Cisco Corporation. Wayne Morgan placed second in the final round of the Netriders IT Essentials Competition. Johnathan McMillian scored the highest score in all of the US and Canada CCENT Competition, while Wayne Morgan placed 15th, Andrew Twist placed 31st and Michael Dutton placed 67th.
The Dental Hygiene Department graduated 21 students last May and all passed their National Board for Dental Hygienists exam. TCC is standing at a 1.73 standard deviations above the national average.  The students also passed their Western Regional Examining Board clinical exam on their first attempt. All graduates have received their Texas dental hygiene license and all are either working full-time or part-time.
The Northeast Technology Department has been approved to teach the industry-leading Check Point Firewall Certification Course.  This Israel-based security company has a U.S. support center in Las Colinas and has for years been a large employer of Northeast Technology graduates. This will benefit our students by helping them be prepared for the Check Point Security Administrator certification. Northeast Technology can now also accommodate 176 students at a time in virtual labs. This allows the students to practice many skills learned on campus at the students' convenience 24/7.
Urania Fung (English) was a speaker at the National Federation of State Poetry Societies Convention in June and a panelist at ArmadilloCon 39 in August.
An article by Rebecca Balcárcel (English) appeared in a recent issue of Noticario, the newsletter of Texas Association of Chicanos in Higher Education. Chronicle Books will publish Quijana, her middle-grade novel about a biracial teen. The book will be released in the fall of 2019. As a published author, she also was invited to the Fort Worth Boys and Girls Club's Career Day.
Student Accessibility Resources (SAR) on Northeast was highlighted during a Channel 11 interview with recent graduate Quentin Johnson and SAR student worker Mike Wright.  Johnson, whose degree is an AAS in Mental Health & Human Services, is blind and assisted by his service animal Slater. For more information see http://dfw.cbslocal.com/2017/05/16/tcc-graduate-loses-sight-finds-better-path/
Murray Fortner, Ph.D. (Chair of Psychology, Sociology, and Mental Health) and Joan Johnson (Chair of Government and Paralegal Studies) presented at the 2017 Civil Learning and Democratic Engagement Meeting in Baltimore, Md. Their presentation was entitled, Media Literacy: Finding Your Way through Fake News. The purpose was to show the impact of fake news on our democracy and institutions. Information about the rise of fake news combined with case studies helped bring the topic to life.
Jessica Payne, Business Services, participated and received 5th place amongst her peers in Ricardo Coronado's "It's Time Texas Challenge" for Tarrant County College 2017.
This summer Lisa Uhlir, Ph.D. presented Black Indians: The Lost Culture at the National Conference on Race and Ethnicity. She also coauthored a chapter in the book Mediating Realities. (Chapter 7 –  "Moving from Compliance to Intentional Inclusion," Kendall Hunt Publishing Co.)
Cynthia Savage (Mental Health) was named Professional of the Year by the Fort Worth chapter of the Texas Association of Addiction Professionals.
James Branch (Reading) received his doctorate of educational administration degree from Northcentral University this past May 2017.
Rosemary Mendez, Ph.D., (Education) received the Chancellor's Quarterly Employee Excellence Award in May.
Lisa Self (Coordinator, Child Development) spoke to more than 300 preschool teachers at the Work Together Win Together Early Childhood Conference in August.  Her topic was "Success! Working with Linguistically Diverse Children and their Families."  This was the second year that she was asked to speak at this conference, which is for a consortium of preschools in northeast Tarrant County.
Hannah Mechler obtained a certified family life educator (CFLE) credential.
Michelle Walsh (Children's Center) completed her training this summer through the Teacher Conservation Institute to be a Project Learning Tree Facilitator. Walsh and Karen Hutto (Children's Center) received Spirit Awards from TCC's Trinity River Campus for their work helping with students touring the Children's Center this summer.
Caroline Hamilton, Ph.D., (Biology) recently was published in NATURE, one of the most prestigious journals in the sciences.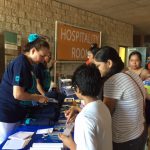 In August, Sue Alvarado, R.N., Instructional Assistant Diane Pierce and Carolyn Sims attended the 6Stones HEB-ISD backpack event. They shared almost 800 packets of information about Tarrant County College with adults attending the event with their children. They also distributed more than 2,700 TCC logo items donated from various offices and programs.  Thanks to everyone for the donations!
Also in August, Pierce, Sims, A'Isha Malone (Speech) and Gloria Santos attended the Refresh BISD backpack event.  At this event, 750 packets of information about Tarrant County College were given to adults attending with their children.  They also shared more than 1,000 TCC logo items donated from various Northeast offices/programs.