Talk about being at the right place at the right time. Jim Martin, one of the coordinators in the TCC Automotive Technology program, was in an off-campus meeting and happened to hear that Toyota was looking for another community college with which to partner.
"He came back and started contacting anybody and everybody with Toyota," said colleague Steve Wille. "We got a call back from Guillermo Lopez with Gulf States Toyota. He came out, talked to Jim, talked to me and that started the whole thing."
The "thing" in question is the Toyota Technician Training and Education Network, or T-TEN, a network of 37 schools providing manufacturer-specific, state-of-the-art training that gives their graduates a leg up in gaining jobs in Toyota/Lexus dealerships. South Campus is one of four Texas schools in the network.
At a ceremony in May announcing the partnership, TCC South President Peter Jordan called it "a huge win for Tarrant County College and all of North Texas. It means TCC faculty are in a position to offer another dimension to the Automotive Technology Program we deliver. For Toyota and Lexus, this partnership creates a ready pool of highly skilled potential employees to meet growing workforce demands."
Wille will act as coordinator of T-TEN, a logical choice since he spent eight years working for Lexus/Toyota before coming to TCC four years ago. He, along with Tracey Miller, another Toyota vet and former adjunct instructor, will teach cohorts of 20 to 25 students entering the program each fall.
First, however, Wille and Miller have to go to school themselves. "While we worked at Lexus/Toyota, we were Lexus Master Certified," Wille said. "Since we've both been out of the program, we have to back in to get those certifications."
Not only must they have an encyclopedic knowledge of Toyota and Lexus vehicles, but they also must learn the company's approach to technician training and how to write a curriculum around it.
T-TEN's first TCC students will begin in fall 2018 after going through what Toyota calls a "boot camp," at the end of which they'll take an exam. "Those who pass the test, go through the process, will be the students in the first cohort," said Ernest Gines, dean of the Business and Technology Division. Recruiting will concentrate on a specific geographic service area around Tarrant County, he added, but students from outside that area will be considered.
Students who make the grade will have a veritable fleet of Lexus and Toyota vehicles to work on, 21 of which delivered by Labor Day. The program will eventually boast an assortment of 36 Lexuses, Camrys, Priuses, Corollas, Tundras and Tacomas plus engines and transmissions — all of which will be in various states of disrepair.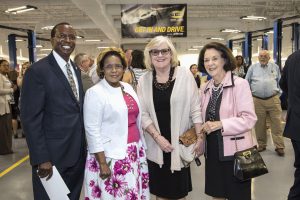 "We will, as they say, 'bug' the vehicles with problems that are seen in the field," Wille said. "We'll equip the students with the skills and tools to be able to find what is wrong. It may be anything from a bad battery to a completely bad circuit that shuts down the whole car."
The learning process will not be restricted to the campus. Students will spend two or three days a week in classrooms and labs, Gines said, and two in paid internships at area Toyota/Lexus dealers. Many graduates of the 24-month program will move into full-time employment with the company. These jobs start out at around $40,000 per year, Gines said, but that figure can grow rapidly. "Looking at the experience they develop," he said, "at the end of five years, if they have master certification, you're looking at six-figure incomes."
"Our mission, in partnership with Toyota dealers, is to support programs that create tomorrow's Toyota technician, acknowledging that a skills gap truly exists and it's a challenge we have to overcome," said Jeff Parent, president of Gulf States Toyota. "Partnering with TCC to bring this curriculum to Fort Worth is one way to overcome that challenge, and we want to help interested, qualified students pursue a career in the technical field by providing them with the resources and skillset that Toyota believes are essential for success."